Toen Fiona de Lange
Ierland bezocht
in juli 2012 was ze ook al zo enthousiast over
Iers bier
. Nu drink ik er ook eens een: O'Hara Irish Red Ale.
De Red Ale ziet er wat donkerder uit dan verwacht. Amberkleurig?
Het bier is zoeter dan verwacht. Het smaakt bitter. Door die moutbitterheid doet het mij denken aan een porter/stout/bockbier. Ook de nasmaak is alcoholerig. Hoe zwaar zou dit bier zijn? 4,3%!? Dat zou ik niet denken met zo'n volle (na)smaak. Wellicht dat de hoodsmaak wat vlak en leeg genoemd zou kunnen worden. Mondgevoel is licht waterig met milde koolzuurprikkeling.
Wat vinden anderen?
O'HARA'S IRISH RED
Carlow Brewing Company
Carlow, Co. Carlow
Official Website
Irish Red Ale
ABV: 4.3%
IBU: 25
This ruddy brew with a white, bubbly head hails from a family-run brewery in Carlow, Ireland. It's true to the style from nose to finish, presenting a simple, clean profile. The sweet aroma arrives in gentle toasted malt and toffee wafts. Similar toffee sweetness plays out on the tongue, though it's textured with a grainy, biscuity character that adds another dimension. Spritzy and medium-light bodied, it's easy on the palate and culminates in a dry, roasted finish (
http://draftmag.com/testing123/reviews/detail/?bid=802
).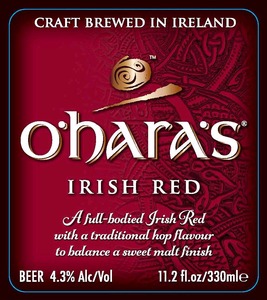 This Red stands out in this beer style category. The malt body is as impressive as a bock, albeit in a uniquely Irish way. With an incredibly smooth malt body complimented by caramel tones and perfectly balanced in bitterness, this Irish Red is much more complex than it's mainstream rivals (
www.carlowbrewing.com/our-beers/oharas-irish-red/?ao_confirm
).
O'Haras Irish Red is a fruity and aromatic beer with a distinctive coffee like finish. The traditional hop flavour balances the sweet malty caramel taste. Brewed with pale malt, torrified wheat crystal malt and a generous portion of roasted barley, O'Haras Irish Red is an excellent accompaniment to roast dishes.
« Irish Red O'Hara » est une bière fruitée et aromatique avec une finition comme du café. La saveur traditionnelle du houblon équilibre le doux goût du caramel malté. Brassée avec du malt pâle, torréfiée de cristal de blé et avec une généreuse portion d'orge torréfiée, la bière irlandaise Red O'Hara est un excellent accompagnement pour vos plats rôtis (
www.ma-nolans.com/40/beer-of-the-month:-o%E2%80%99hara%E2%80%99s-red-ale-abv-4.3.html
).
O'hara's are a family owned craft brewery, producing award winning beers at the heart of the Barrow Valley, a historical region for malt and hop production in Ireland.
This Red stands out in this beer style category. The malt body is as impressive as a bock, albeit in a uniquely Irish way. With an incredibly smooth malt body complimented by caramel tones and perfectly balanced in bitterness, this Irish Red is a rich and complex drop (
http://cellardoordrinks.co.uk/products/oharas-irish-red-ale-1?variant=967837537
).
O'Hara's Irish Red | Carlow Brewing Company
Brewed by:
Carlow Brewing Company
Ireland
carlowbrewing.com
Style: Irish Red Ale
Alcohol by volume (ABV): 4.30%
Availability: Year-round
Notes / Commercial Description:
No notes at this time.
Added by merlin48 on 02-22-2005 (
www.beeradvocate.com/beer/profile/646/22181/
).
KLHBB, Oct 18, 2016
There's a coffee-porterish slant to this beer -- it's very good, but muddier than I look for in an Irish Red. Darkest garnett, a strong smell of earth, medium carbonation, I'd drink this again (
www.beeradvocate.com/beer/profile/646/22181/
).
puboflyons, Jul 02, 2016
The pour is an attractive looking amber with plenty of red hues under an off-white, lingering head.
Roasted barley is the main thing I get on the nose with some caramel or toffee. Very sweet all around. Low hops.
Medium body,.
The taste has all the roasted caramel malts that I can expect from the style as well as a decent sweetness. It finishes clean and mildly bitter. Well worth trying at least once (
www.beeradvocate.com/beer/profile/646/22181/
).
InfernoOrangeSS, May 15, 2016
This is a really good Irish Red Ale. I am a particular fan of Irish Reds and this is a great representation of them. The color is a deep dark, and the aroma is very much a maltiness heaven. If you're a FB of Irish Reds, then I highly encourage you to seek this great brew out. I really like it and it goes down smooth (
www.beeradvocate.com/beer/profile/646/22181/
).
O'Hara's Brewery/Carlow Brewing Company is an independent Irish family owned brewery located in the heart of Ireland's historical malt-growing "Barrow Valley" region.
For over 100 years Ireland had seen a steady decline in its local brewing culture with the industry becoming dominated by a small number of large internationally owned breweries. During this time Ireland's brewing industry entered an unfortunate period of consolidation, takeover and mergers
until all that was left by the1980s were three large multinational brewing corporations operating six breweries. On-going consolidation within that group means that by the end of 2013 only two of these breweries will still be operating. However, a revitalisation of Irish brewing is now well underway with the development of a flourishing craft beer sector. O'Hara's is honoured to have been at the forefront of this development since 1996, and we welcome the many new independent breweries set up in the past few years by like-minded colleagues passionate about brewing more flavoursome beers and making them available all over Ireland and beyond (there are now over 20 craft breweries on the island of Ireland and several more in the pipeline).
In 1996 O'Hara's Carlow Brewing Company signed a lease on the nineteenth century "Goods Store" in Carlow town within the local railwaystation grounds. Fortunate that our family roots are in County Carlow with its rich arable land and limestone-rich hard water supply which
is particularly suited to brewing Irish stouts and ales, the location was ideal. With a passion for craft beers and a budget just big enough to scope out our initial brewing plant, we set out on our mission to change the brewing landscape in Ireland - to revert it back to a country where flavoursome beers would once again be the standard beverage in every town!
Carlow Brewing Company is an independent Irish family owned brewery located in the heart of Ireland's historical malt-growing "Barrow Valley" region.
In April 2013 we embarked on another adventure and opened the doors to our own craft beer pub, serving only independent Irish craft beers on tap. Brewery Corner is located 24km from our brewery, in the heart of Kilkenny city in an area with a long tradition of brewing and distilling. The full O'Hara's beer range is available at all times alongside guest draught beers and ciders from other independent Irish craft
brewers and a wide range of quality imports in bottle. Brewery Corner is an experience for the craft beer enthusiast and a great place to learn what craft brewed beers are really about – taste the flavours (
www.carlowbrewing.com/our-brewery/
).
Brewing in Ireland has a long history which, like different beer styles, has evolved over time. Historically Irish ales were fermented without hops and by the time the late 1700s came around porter breweries were in popular demand. By the 18th century most market towns in Ireland boasted at least one brewery with different regions producing different styles of beer. Ireland's hops were cultivated in the midlands and Carlow became particularly famous for having the best arable land in the country for malt barley cultivation, land that to this day is still used for growing high quality malt. Old malt houses can still be seen all along the River Barrow and these would have serviced the breweries and distilleries of the country through the navigable river and canal system.
In the beginning of the nineteenth century there were over 200 breweries in Ireland, more than 50 in Dublin alone. A large malt house on the outskirts of our local town, Bagenalstown, originally operated as a water powered brewery until the late 1700's before being turned in to a malting facility which continued to produce malt until the mid-1980's. This building still dominates the entrance to the town and still has intact floor maltings. Carlow town boasted no fewer than 8 breweries. Unfortunately Ireland had a steady decline in it's indigenous brewing industry over the past 200 years, with the beer industry today dominated by a small number of large internationally owned breweries.
While Ireland's prestigious reputation for producing quality beers continued to dwindle, a craft brewing revival had begun in Britain and America. As early as the 1980s these two countries had gained great diversity in brewing, and Ireland looked to follow suit. In the early 1990's the O'Hara family, along with a few other beer-loving entrepreneurs, stepped onto the scene, ready to put Ireland on the map. Ireland's microbreweries were born again and the wheels were set in motion for the slow but highly successful craft beer evolution.
THE CRAFT REVOLUTION BEGINS
Today, there has never been a more exciting time to be part of the craft beer scene in Ireland. There are now over 20 microbreweries on the island of Ireland, more than half of which opened their doors in the past five years. Craft beer consumers are becoming more numerous, confident and adventurous than ever before leading to demand for a wide variety of flavours and styles. Pubs and off-licenses are playing their part too and many now stock a broad range of Irish craft beer to meet customer demand (
www.carlowbrewing.com/our-heritage/
).
Founded in 1996 by brothers Seamus and Eamonn O'hara, Carlow is one of the pioneers of a rapidly expanding craft beer movement in Ireland. Where there were once only three or four brand available in any Irish pub, there are now a bevy of craft brands competing for tap space and winning converts to the cause.
A while back I had the opportunity to chat with Seamus O'hara over lunch at The Local. We talked about the brewery, but also about the state of craft beer in Ireland. As we went I was continually reminded of the state of craft beer in Minnesota and the Upper-Midwest region in general. Both are experiencing a rapid expansion based on education, festivals, and an evolving consumer palate. Both are seeing increasing pressure from bigger breweries whose market they are chipping away. It was fascinating to see how small breweries over there are coping with similar issues as those faced over here.
...
Actually my background is in biotech. As part of that we studied brewing and we had a pilot brewing plant in college. When I graduated I went to work in pharmaceutical biotech, but I was also an active homebrewer and just got into making beer and wine and all sorts of stuff. But it was funny, when I went to work in pharmaceuticals I was working abroad, initially in the UK, and that was the first time I got introduced to all the beers and cask ales. I kind of really got into it and really loved going to the bars for different guest beers each weekend. Three years later or so I moved back to Ireland and it was almost a shock to the system. I didn't realize that we had such a limited selection – like the same three or four products in every pub in the country. So over a couple of years I kind of got the idea about maybe setting up a brewery. I got inspiration from American craft brewing that you can do it. You can set up a small brewery. It's not just for the big guys. So that's where the idea came from. Eventually myself and my brother just got together and worked out a plan. In 1996 basically, we set up a company and went about looking for a building and equipment. We raised a small amount of money from friends and family and the first products came on the market in 1998. I kept another job. It was kind of part time. We couldn't afford to be full time. But it's been great over the last three or four years to be full time. And we've had a lot of growth over the last three or four years.
...
When we started there was kind of a first wave of breweries around the same time. There were up to about eight small breweries back in the late 90s. But we all had the same issues. Not only were there only the same beers in every pub, but because there had never been small breweries, none of the infrastructure was there for distribution. You couldn't plug into a distributor. There was no line cleaning. You had to do everything yourself. So it was a challenge. From that time there are only three survivors, I think. But then there was a change in excise law in the early 2000s to allow an excise break for small breweries and that kind of helped the viability of the business. Bringing it up to date, one of the other hats I wear is that I'm involved in running craft beer festivals in Ireland. We started that business in 2011. Because there were so few opportunities to get craft beer out there we set up our own festivals. The first year we did it we had twelve breweries. The second year we had 16. The third year was 23. This year we think we'll have 35. So there's been quite an increase. It really has taken off in the last two or three years. It's a recognized thing and category. Bar staff know about it. Pub owners know about it. It's kind of opened up. It's a really interesting time (
www.aperfectpint.net/blog.php/tag/oharas-irish-red/
).