Op
Coming-Outdag
(Engels:
Coming Out Day
), die jaarlijks op
11 oktober
plaatsvindt, wordt aandacht besteed aan het moment dat een
homo
,
lesbienne
,
biseksueel
of
transgender
(LHBT) openlijk voor zijn of haar
seksuele voorkeur
uitkomt: het
uit de kast komen
oftewel de
coming-out
. Coming-Outdag vond voor het eerst plaats in 1988 in de Verenigde Staten en wordt sinds 2009 ook in Nederland gehouden (https://nl.wikipedia.org/wiki/Coming-Outdag).
Soms wordt er gezegd dat 'gay' stom betekent, maar vanuit het Engels betekende het eigenlijk 'vrolijk'... Van bier word je ook vrolijk... Is er dus ook 'gay'bier?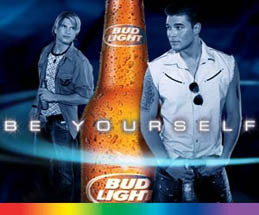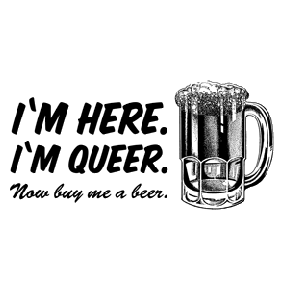 Apr 25, 2009, 1:20 AM
1. Re: What is a "gay" beer?
Apr 25, 2009, 4:30 AM
I think this means any of the fruit flavoured beers, and it looked like he was drinking a cherry flavoured one -:)
3. Re: What is a "gay" beer?
Apr 25, 2009, 12:52 PM
Never heard of this. I live in Haacht were you can find an independent and succesfull brewery. Their pils comes in different glasses, the smallest and most elegant one is often called a 'janettenglas' (gayglass) but mostly by those who do not drink out of it. In Belgium, whilst drinking Lager, size sometimes matters.
4. Re: What is a "gay" beer?
Apr 25, 2009, 3:37 PM
Colin has a pint of Stella the other fella has a half-pint of something local in a stemmed glass.
'Gay' being the term sometimes used for half pint drinkers in Ireland/UK.
It's not standard, just a joke used in the film.
Zas
(
www.tripadvisor.com/ShowTopic-g188644-i205-k2738249-What_is_a_gay_beer-Brussels.html
)
Ray: One gay beer for my gay friend, one normal beer for me because I am normal (www.imdb.com/title/tt0780536/quotes).
Does anyone know what the "gay beer" was in the film "In Bruges"? (self.movies)
geplaatst op 1 jaar geleden door MooseGuzzler
Ray refers to the beer ken was drinking as a "gay beer" several times. Does anyone here know what kind of beer it was?
It could have been any number of Belgium beers. I doubt it was Stella Artois, because that beer is considered a disgrace to Belgium because they're owned by InBev.
"Gay beer" is a reference to the beer being served as a half pint rather than a full pint. The beer in question is Stella, which is garbage and basically the Budweiser of Belgium.
I think he was just referring to the glass it was served in.
Magnafetus 4 punten 1 jaar geleden
The glass it was served is the device to show that Ken asked Ray to get him a lighter beer. Bar tender likley typically serves that particular beer in the "gay glass" Because if you remember later when Ray meets up with Ken and he's all coked out he quickly orders "one gay beer please" it's served in the same glass (www.reddit.com/r/movies/comments/3nzwri/does_anyone_know_what_the_gay_beer_was_in_the/).
A smaller than average serving of beer, A beer served in a gay wine or champagne like glass. Typically for your gay friends who don't drink as much beer.
Gay Guy: "I think I'll just have a small beer tonight"
Bartender: "What can I get you guys to drink tonight"
Normal Guy: "One Gay Beer for my gay friend, and one pint for me, thanks" (
www.urbandictionary.com/define.php?term=Gay%20Beer
)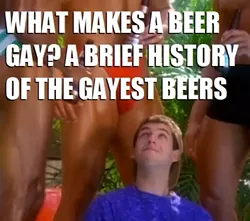 Ever since SNL's "Schmidt's Gay," beer enthusiast have long thirsted for a truly gay beer, one that is totally gay and not just curiously hoppy. Well, Wasatch Brewery, the same folks who brought us the clever Polygamy Porter and Provo Girl Pilsner, have finally developed a brew in response to Utah's issues surrounding sex marriage, called Live and Let Live. The question is, is it really that gay?---
(www.cityweekly.net/TheDailyFeed/archives/2014/02/18/how-gay-is-wasatch-brewerys-new-beer-live-and-let-live)
The Seattle-based Redhook Brewery is the latest company to back LGBTQ rights with a hilarious series of ads that simultaneously tout three of the brewery's beers and equality.
The company is no stranger to pro-gay advertisements. In November, when marriage equality was on the ballot in Washington, Redhook released this ad, which said "Marriage is so gay. It's about time."
The latest series of posters ties in the equality message with three of its beers. The ad for the Extra Special Bitter (ESB) targets the ladies-loving-ladies community with "You can't spell lesbian without ESB." The funniest of the trio, however, is the one for Long Hammer IPA: "Because two long hammers are better than one."
I called around to see where you can pick up a case of Redhook, because, not being a beer drinker, I didn't have a clue. Turns out it's not as readily available as I'd hoped (/www.phillymag.com/g-philly/2013/04/15/redhook-brewery-releases-pro-gay-marriage-ads/).
Big Beer Bows to 'Gay' Bullies in Reprobate America (www.freerepublic.com/focus/bloggers/3134473/posts).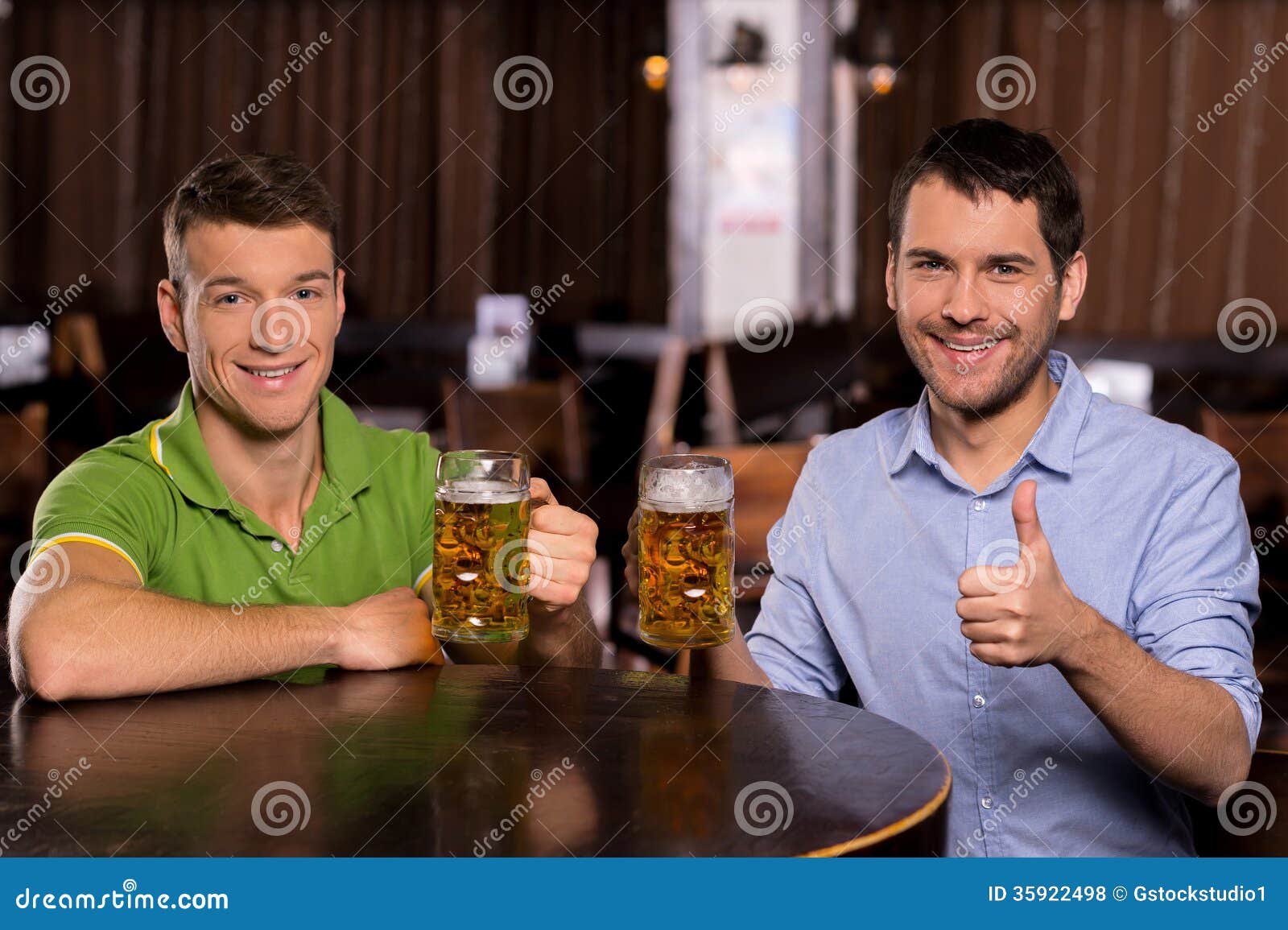 The Coors Boycott: The LGBTQ movement and people's counter-offensive against the right
By John McDevittJul 28, 2015
On the tail of the tremendous same sex marriage victory and with the 2016 U.S. elections fast approaching, the ruling class forces of the rich and powerful are now forced to decide how to relate to this historic moment in the LGBTQ struggle for equality....The spectacular ruling by the U.S. Supreme Court, however, did not come about suddenly. Rather, the ruling was the result of a dramatic sea-change in public opinion on the issue of marriage equality, in response to decades of struggle carried out over decades in cities large and small....
The struggle against Coors Beer, embodied in the Coors Beer Boycott that began in 1977 and continued through the Reagan years and beyond, is an important example of working class unity that took up the banner of LGBTQ rights through an unshakable alliance of gay activists and organizations, labor unions, immigrant rights groups and other anti-racist sectors, setting the basis for the unity that these movements share today.....
The Coors Beer Boycott was a counter-offensive of the people against Reagan's anti-labor offensive — one of the most wide-spread and militant labor struggles in decades. In 1977, ferociously anti-union Coors Beer moved to smash the union after a strike of nearly 1,500 workers in 1977. Part of the anti-union campaign was to fire without cause workers suspected of being lesbian, gay, bisexual, trans, or queer from its Colorado-based brewery.
At the same time, the Coors family was the funding power behind anti-immigrant legislation in Colorado, California and other states. A large number of the union fighters at Coors were immigrants from Mexico. For years there was no women's bathroom at the Coors Brewery as management refused to hire women. Workers who applied for positions at Coors underwent lie detector tests in which they were asked their opinions about collective bargaining and if they were homosexual.....
Morris Kight is recognized by many as one of the founding members of the modern day LBGTQ movement. ...
But perhaps, Kight was best known in his role for linking the LGBTQ rights movement at the time with the larger people's counter offensive against the right-wing, when he called a powerful demonstration at Outfest, a gay and lesbian film festival, in 1977, after organizers for the LGBTQ social event accepted funding from Coors Beer. He used the opportunity to educate the LGBTQ community about the racist, anti-labor and anti-LGBTQ practices of Coors Beer, forging a new alliance that succeeded in banning Coors Beer forever from the event. Although other organizations later called an end to the boycott of Coors Beer, the boycott continues until today, where it is virtually impossible to find a gay bar selling Coors Beer.
Scott Smith's name may not be recognizable to many. He had a romantic relationship with Harvey Milk, the first openly gay elected official in the United States, who won a seat on the San Francisco City Council in 1977. Milk was assassinated by the bigoted ex-cop Dan White the next year.
Scott Smith, however, played an important role in Milk's own political development and remained an ally and friend of Milk even after their relationship ended. Smith brought the Coors Boycott to Harvey Milk's attention, who used his position as an openly gay elected official to push forward the labor/LGBTQ/immigrant alliance that was forming in the Bay Area at the time through the militancy of the Coors Boycott.
Gay activists at the time secured full agreement of gay establishments not to sell Coors Beer, dramatically dumping Coors beers down the drain and into the streets. These actions, orchestrated by Smith, spread to securing the boycott in LGBTQ venues across the country (www.liberationnews.org/the-coors-boycott-the-lgbt-movement-and-the-peoples-counter-offensive-against-the-right/).
Gay Politician Calls For Yuengling Beer Boycott After Owner Backs Trump
So much for these suds 10/27/2016 02:40 pm ET | Updated Oct 28, 2016
America's oldest brewery has come under fire from a number of customers and a local politician after its owner voiced his support for Donald Trump.
On Monday, Dick Yuengling Jr. told Trump's son, Eric, that he and his employees were "behind" the Republican nominee, the Reading Eagle reports. The remarks came after Eric Trump toured D.G. Yuengling & Son's brewery in Pottsville, Pennsylvania while campaigning on behalf of his father. "We need him in there," Yuengling reportedly told Trump during the tour.... News of Yuengling's endorsement infuriated some patrons, who took to Twitter and other social media outlets to express their distaste for the move. Among them was Pennsylvania Rep. Brian Sims (D-Philadelphia), who called himself a "former customer" and blasted the brewery for using "my dollars to bolster a man, and an agenda, that wants to punish me for being a member of the LGBT community and punish the black and brown members of my community for not being white" in an Oct. 26 Facebook post.
"Our communities know a thing or two about voting with our dollars," Sims, who became his state's first openly gay elected state legislator in 2012, wrote in the post, "and I won't be using my hard-earned dollars to give power to any company or person who hates me."
Whether or not the boycott will succeed remains to be seen. For now, however, those soured by Yuengling's Trump endorsement can look to Philadelphia-based blog Billy Penn, which has compiled a comprehensive list of brews that have thus far steered relatively clear of politics. There's also Bud Light, which celebrated the one-year anniversary of marriage equality in the U.S. with a cheeky commercial starring Seth Rogen and Amy Schumer in June (
www.huffingtonpost.com/entry/brian-sims-yuengling-gay-boycott_us_58122664e4b0390e69ce8ea6
).
Gay bars in Philadelphia and Washington, D.C., are boycotting Yuengling after the beer company's owner, Richard "Dick" Yuengling Jr., came out in support of Donald Trump. Last week the fifth-generation businessman gave the Republican nominee's son Eric a tour of a Yuengling brewery located in Pottsville, Pa.
Following the owner's endorsement, Rep. Brian Sims, Pennsylvania's first openly gay state legislator, called on gay-owned businesses in the Keystone State to stop serving the company's products. Forbes described Yuengling as boasting a "cult-like status" in the 19 states — primarily in the East Coast and Southwest — where the beer is distributed. Even President Obama is a fan.
But the buck has to stop somewhere, as Sims wrote on Facebook.
"One of the most prevalent brands in the gayborhood and in LGBT bars across the Commonwealth, is using our own dollars to back a person and an ideology that says that our lives … matter less," he said. ... Following Sims's call to arms, several gay bars swiftly dropped the brand.
David Perruzza is the manager of JR's Bar, a popular club located in our nation's capital. On October 27, he posted a video on Facebook in which he removed the Yuengling tap from the bar, vowing to never serve the beer again. During the 28-second clip, he particularly cited the antigay policies of Mike Pence, Trump's running mate, as behind his decision to boycott.
"When people support things that don't support us, then we don't support them," Perruzza said.
The bar, however, is just one name on a long list of business that have vowed to stop supporting Yuengling. ... The brand first signaled its support for the Republican candidate during a May interview with Forbes, in which Dick Yuengling — who is the great-great-grandson of the company's founder — decried the impact of government regulation on his company.
"The rules and the regulations and the paperwork — it's horrible," Yuengling said. "We don't need the government to tell us everything."
He further claimed that high corporate tax rates make his company vulnerable to foreign competitors. "I'm the owner of the oldest brewery in the country," Yuengling continued. "I'm trying to compete with Anheuser-Busch, which is owned by Belgians, and I'm sure the tax they pay is far less than the percentage we pay in the United States. How do you compete?"
This isn't the first time that a company has found itself at the center of a nationwide boycott due to its owners' anti-LGBT politics.... And in the 1970s, many gay people and labor organizations boycotted Coors beer, due to the company's anti-union stance and allegedly antigay policies. The Coors family was well-known for support of right-wing causes. Eventually the brewer became much more gay-friendly, and it merged with Miller, long considered an LGBT-supportive company, in 2008 (
www.advocate.com/election/2016/11/02/gay-bars-boycott-yuengling-beer-after-owner-comes-out-donald-trump
).
In an ad released on June 1, Anheuser-Busch InBev had current mascots Amy Schumer and Seth Rogen take their "Bud Light Party" campaign to the gay wedding of Steve and Greg. After the pair spend the bulk of the 30-second spot assuring audiences that same-sex weddings are just like straight ones, Rogen intones the brand's allyship—"Bud Light proudly supports everyone's right to marry whoever they want!"—about a year later than would have been useful.
If I sound a touch jaded about something that is, on balance, probably a good thing, it's because this particular synergistic matchup between a brand and LGBTQ rights feels even more cynical than normal. A Wall Street Journal piece about the ad notes that it will only air for one night in the queer-friendly markets of New York and California. And moreover, the move seems to be more about tapping new markets in the face of declining sales than any authentic commitment to equality. From the Journal:
But the world's largest brewer has decided it needs to be bold to reverse flagging sales of Bud Light and Budweiser. It has lost 5.2 percentage points of market share in the U.S. since 2008, falling to a 43.6% share, according to industry tracker Beer Marketer's Insights. …
[T]he new Schumer-Rogen spot is designed to highlight Bud Light's appeal across a more diverse group of beer drinkers, ranging from Hispanics to gays to women—and younger ones. Millennial drinkers are far more supportive of LGBT rights than baby boomers, with more than 70% favoring same-sex marriage compared with 46%, according to the Pew Research Center.
While the ad does risk alienating some of the Bud-swigging bros out there—and indeed, New York magazine already found aggrieved tweets from said bros—its limited release, timed as it is alongside a broader brotastic campaign of actually replacing Budweiser with America on some cans, is precisely calibrated to mitigate any real damage.
But hey, perhaps I'm just a bitter queen. Maybe the (other) gays will like it? I promise to do some on-the-ground research at the queer bars—where I don't think I've ever seen an unironic Bud Light drunk—this weekend. But in the meantime, this quote from a gay colleague might offer some clues: "Curious, this notion that gays would serve Bud Light at a wedding." (www.slate.com/blogs/outward/2016/06/03/bud_light_pride_ad_imagines_gays_serve_beer_at_their_weddings.html)
A TV commercial running this summer for Heineken Light beer is raising some eyebrows as it features actor Neil Patrick Harris, an openly "gay" man, asking if he can "flip another man's meat."
The advertisement has Harris, best known for his roles in "How I Met Your Mother" and "Doogie Howser, M.D.," making a series of statements to a man who appears to be grilling something on a barbecue (www.wnd.com/2016/09/heineken-light-uses-gay-sounding-joke-in-new-tv-ad/).
1991: Schmitts Gay
In this ad parody from SNL's 17th season, buddies Adam Sandler and Chris Farley gleefully find that all they need to turn their crappy house-sit into a full-on gay house party is a little Schmitts Gay beer (
www.gaycities.com/outthere/35311/chug-a-lug-gurl-gay-beer-turns-25/
).
Schmitt's Gay
Housesitter #1.....Chris Farley
Housesitter #2.....Adam Sandler
[ open on two Housesitters entering dingy-looking house ]
Housesitter #1: [ disgusted ] This is a great housesitting job you found.. this place is a dump!
Housesitter #2: Just wait'll you see the pool.
[ they reach the pool, whch is dirty and empty ]
Housesitter #1: [ further disgusted ] No water!
[ Housesitter #2 grins slyly, then turns a faucet on and fills the pool. Dirty water starts to drip from the pipe, but suddenly the dirty pool is transformed into a sparkling paradise, as five heavily-pumped gay men rise from the water. ]
Guy In Pool: You two look like you need to get wet!
Housesitters: [ looking up to the heavens ] Thank you!
[ flash on Schmitt's Gay logo on the front of a bottle ]
[ intercut shots of crotch areas of the gay men, as the Housesitters scream excitedly ]
[ various scenes of the Housesitters engaged in activities with the gay pool guys are seen - drinking, videotaping, doing the congo, etc. ]
Announcer: If you've got a big thirst, and you're gay, reach for a cold, tall bottle of Schmitt's Gay (http://snltranscripts.jt.org/91/91aschmitts.phtml).
Schmitt's Gay beer, first aired in 1991, a year into the pair's run at SNL. It's a simple premise– what if a gay beer company existed and objectified men the same way Budweiser and Coors objectify women?– that Sandler and Farley totally nail. Perhaps the sketch's most lasting legacy is giving us some great, banana hammock GIFs (www.groundfloorcomedy.com/classic-bits-schmitts-gay-beer/).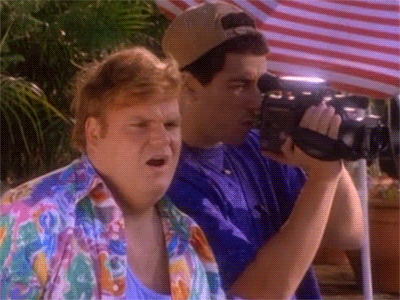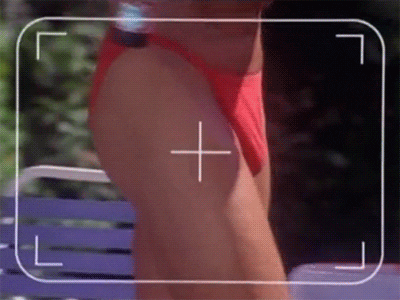 1993: Pride Beer
Los Angeles entrepreneur Bert Swartz debuts the short-lived Pride Beer.
1993: Coors
After years of antigay policies, Coors begins an about-face embrace, beginning with the 1993 organization of its LGBT workers into Lesbian and Gay Employee Resource (LAGER), and followed in 1995 by its extension of same-sex partner benefits. In 2001 dynasty heir Scott Coors (himself openly gay) launched a feather-ruffling LGBT print ad campaign.
1995: Guinness
British beer titan Guinness commissioned this revolutionary ad featuring a same-sex couple in 1995—then after an ensuing backlash in the UK tabloid press, pulled the ad and denied it ever exited until 2012, when it became a viral hit.
1999: Gay Pride Beer
A New Hampshire brewer receives approval to bottle Gay Pride Beer.
2004: Pride Lager
A California brewer gets the nod to produce Pride Lager.
2008: In Bruges
With one simple line ("One gay beer for my gay friend, one normal beer for me because I am normal") from the 2008 movie In Bruges, Colin Farrell sparked rampant speculation about what constitutes a gay beer. Fruity flavoring? The shape of the glass? Or is it just an Irish thing?
2011: Purple Hand Beer & Salamandra
Mexican brewer Minerva claimed (by now we know incorrectly) that it had launched the world's first gay beers with the introduction of its Purple Hand Beer and Salamandra Honey Ale labels.
(
www.gaycities.com/outthere/35311/chug-a-lug-gurl-gay-beer-turns-25/
)
A small Mexican brewery called Minerva has brewed several new beers targeted specifically at gay drinkers. Purple Hand Beer and Salamandra, supposedly the world's first "queer beers," are already available in some bars and restaurants in Guadalajara, Mexico City, Puerto Vallarta and Los Cabos, according to reports. The "artisan honey-ales" are made with organic honey and malt, giving them an orange flavor, which the brewer believes appeals to gay communities. Also, in a nice touch, the labels (which reference gay themes) are designed to be unglued and worn as a symbol of gay pride. It's an interesting idea, and some people will surely try the stuff just on principle. But can you really expect someone to like the flavor of something based on whether they're straight or gay? (www.adweek.com/adfreak/mexico-introduces-worlds-first-gay-beer-127014) (http://newsfeed.time.com/2011/02/18/lgbt-libation-mexican-brewery-introduces-the-worlds-first-gay-beer/)
Mexican brewery unveils first gay beer 6:30AM GMT 17 Feb 2011
A small Mexican brewery has produced what it claims is the world's first beer specifically targeted at the homosexual community.
The beer, which has a slight honey flavour, will initially be marketed to homosexual consumers in Mexico, Colombia and Japan.
The Minerva brewery said that the "Artisan Honey-Ales" would appeal to a section of the beer-drinking public that had so far been snubbed by larger brewers.
"We're out in the market with great respect with the idea of offering a product directed to the gay-
lesbian community that has been ignored for too long but is important and very demanding", Dario Rodriguez Wyler, commercial manager for distributors Bodega 12, told the Mexican news agency Efe.
The label on the beer bottles has been designed so that it can be unglued and worn as a symbol of gay-lesbian pride, he said.
The Purple Hand Beer and Salamandra beers are already available in some bars and restaurants in Guadalajara, Mexico City and the resorts of Puerto Vallarta and Los Cabos (
www.telegraph.co.uk/news/worldnews/centralamericaandthecaribbean/mexico/8329843/Mexican-brewery-unveils-first-gay-beer.html
).
What makes this beer gay? In 2011, Minerva Brewing released two artisanal honey beers, Salamandra and Purple Hand, and claimed to be the first brewery in the world to create a line of beers specifically for the LGBT community. The beers are reportedly named after iconic names and symbols of the LGBTQ community. Purple Hand is a nod to the the Gay Liberation Front and the famous Society for Individual Rights protests in 1969 to disparaging articles from the San Francisco Examiner. As for the Salamandra (Salamander), your guess is as good as mine.
How was it received? The two beers were met with mixed reviews. Though they sold fairly well in the beginning, the beers were criticized as patronizing to the LGBTQ community (
www.cityweekly.net/TheDailyFeed/archives/2014/02/18/how-gay-is-wasatch-brewerys-new-beer-live-and-let-live
).
BuQiDák by Brewery House Chyne, Czech Republic
Released: 2011
Alcohol by volume: 4 percent
Ingredients: Barley malt, wheat malt, hops, hibiscus, orange peel, coriander and beechnuts
What makes this beer gay? This is one of the weirder so-called gay beers. Brewed in 2011 for the Prague Pride festival, the beer was actually crafted by Ladislav Jakl, who is the secretary and political office director to Czech President Václav Klaus, a renowned homophobe.
How was it received? Though the beer has a "pink color and sweet taste," it experienced a lukewarm reception. Critics have questioned the motives behind the beer and have criticized it as more of a mockery than a celebration of Czech's LGBTQ community (
www.cityweekly.net/TheDailyFeed/archives/2014/02/18/how-gay-is-wasatch-brewerys-new-beer-live-and-let-live
).
2011: Budweiser
It's ambiguous at best, but when Budweiser's Coming Home ad appeared less than a year after the repeal of Don't Ask, Don't Tell, many saw its main characters as gay lovers reunited after military service (
www.gaycities.com/outthere/35311/chug-a-lug-gurl-gay-beer-turns-25/
).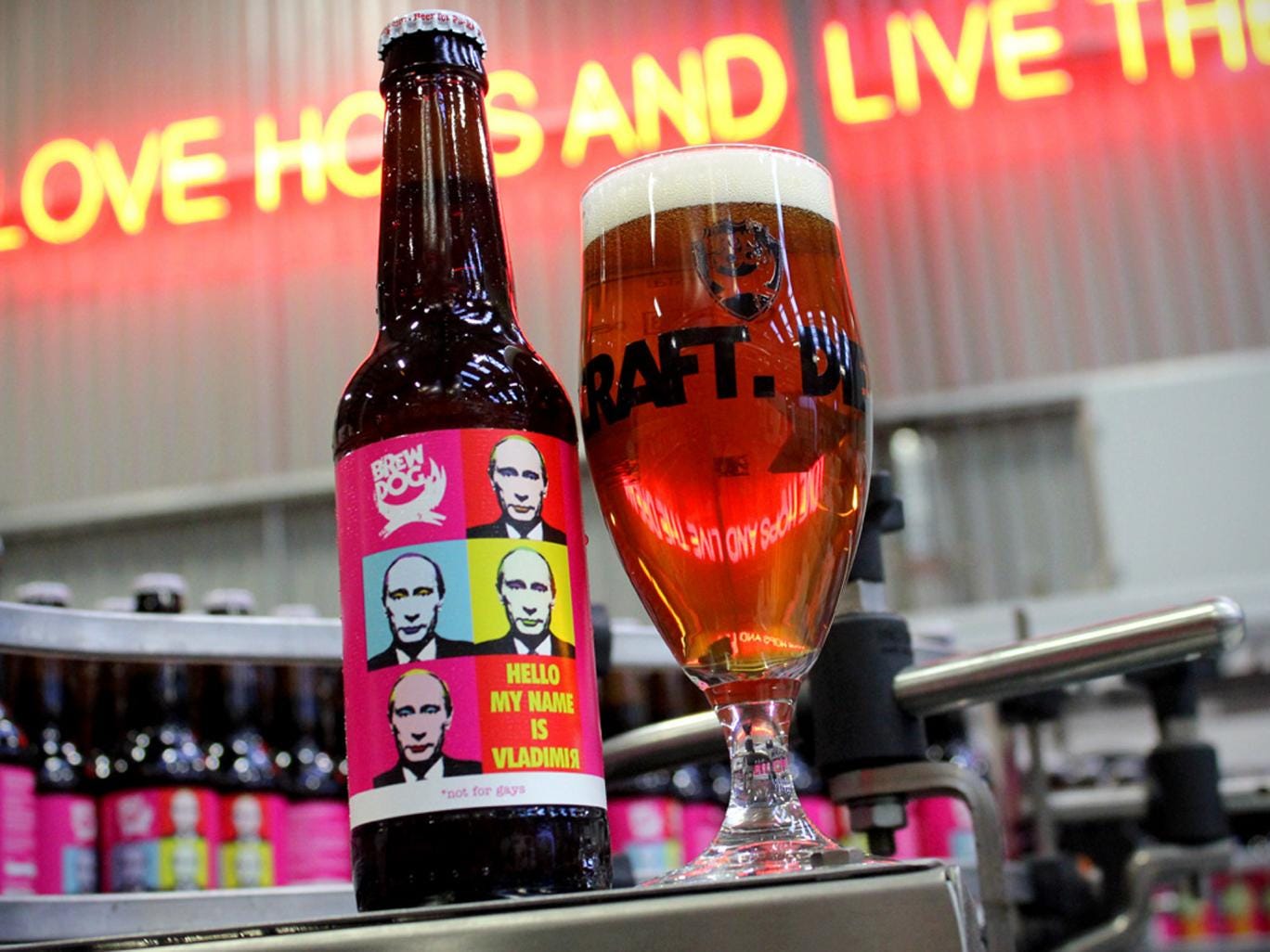 Vladimir Putin 'not for gays' protest beer launched by Scottish brewery BrewDog
'Hello, my name is Vladimir' beer has gone on sale to coincide with the 2014 Sochi Winter Olympics
Heather Saul @heatheranne9 Wednesday 5 February 2014
A Scottish brewery has launched a 'not for gays' beer in protest at Vladimir Putin's anti-gay laws, and have even sent a crate to the Russian leader himself.
The limited-edition 'Hello, My Name is Vladimir' beer features a Warhol-esque impression of Vladimir Putin wearing make-up on its label and the satirical *not for gays small print across the bottom.
BrewDog, the brewery responsible for creating the 'protest beer' included the following description on the labels: "Hello, my name is Vladimir. I am 100 per cent hetero and will pass laws to prove it.
"Drinking me gives you energy, ignorance and dogmatism required to shoot a deer (with your top off) and pass internationally denounced, discriminatory legislation (top optional) before you've even had your caviar breakfast."
James Watt, co-founder of BrewDog said they produced the double IPA 8.2 per cent beer, which went on sale shortly before the 2014 Sochi Winter Olympics begins, as a protest against the President's gay laws and to "hold up a mirror to discriminatory legislation signed off by Mr Putin." (www.independent.co.uk/life-style/food-and-drink/news/vladimir-putin-not-for-gays-protest-beer-launched-by-scottish-brewery-brewdog-9108835.html) The beer retails for £2.89 ($4.70) per bottle, with 50 percent of profits going to gay-supportive charities.
The brew contains Limonnik berries, an ingredient mixed in Russian tea and regarded by some Russian hunters as a way to enhance sexual performance in men, BrewDog said.
The choice of the berries appears to be a nod to the macho image that Putin has cultivated by, among other things, being photographed swimming, fishing and riding barechested on horseback in Siberia.
(
https://themoscowtimes.com/articles/british-brewery-mocks-putin-with-anti-gay-beer-31711
)
A double IPA with a touch of Limonnik Berries.
What makes this beer gay? Scottish brewery BrewDog whipped up this "not for gays" limited-edition batch right before the 2014 Olympics in Sochi as a "tongue in cheek" protest against the Russian leader's anti-gay laws. The best thing about it? A case was sent to Vladimir himself, and according to BrewDog co-founder James Watt, 50 percent of the proceeds are going to organizations that support suppressed minorities.
How was it received? Because of its relentless jabs at Mr. Putin, the beer made international headlines and sold out almost immediately. People love making fun of Putin (www.cityweekly.net/TheDailyFeed/archives/2014/02/18/how-gay-is-wasatch-brewerys-new-beer-live-and-let-live).
'Brewdog "cannot and will not guarantee that at some point we will not offend the following groups due to our deep-seated and heartfelt prejudices". It then went on to list a number of groups including Sepp Blatter; Nazis; overweight cats; diet drinks and people who put lime into lager bottles.
'The company summed up its advertising approach by saying "we sometimes don't take ourselves too seriously" and asked people to accept the list of groups as full transparency regarding who and what it discriminated against, warning that it may well ridicule them in the future. The statement concluded that anyone believes "we are ridiculing anything other than people or items listed above, you are either misguided, ill-informed or out of your tiny mind" (www.fagburn.com/2015/09/advertising-could-you-be-more-boring.html).
This Brewery Doesn't See Why Marketing a "Transgender" Beer Might Offend LGBT People
NOV. 4 2015 1:29 PM
BrewDog on Wednesday launched "No Label," a "non-binary, transgender beer" that is made using a variety of hops that changes sex prior to harvest. The founder of outspoken Scottish craft brewery BrewDog says its new "transgender" beer is not a gimmick and is a genuine effort to help the LBGT community.
But the beer has provoked some backlash in the LBGT community. A spokesperson for charity Stonewall told the Independent it was "concerned about the language" in the campaign, saying it could "undermine" the community. Some people have also taken to Twitter to criticise BrewDog's apparent use of transgender identity as a marketing ploy.
The launch of the beer coincides with the opening of BrewDog's new bar in Soho, London. The area was once the city's red light district but is now a more mainstream nightlife hotspot. BrewDog said in a statement that the new beer is "designed to reflect the diversity of the area and champion inclusivity."
James Watt, the founder and CEO of BrewDog, told Business Insider that the beer was not a gimmick or marketing ploy and is a genuine attempt to help the LGBTQI+ community. Watt told Business Insider: "People have got to look at what we've done here. We've worked with the charity Queerest of the Queer to put this together. They co-designed the packaging, they worked with us on the project, we're donating all the proceeds of sales of this beer to charity." (
www.slate.com/blogs/business_insider/2015/11/04/brewdog_markets_transgender_beer_to_help_lgbt_community_sparks_backlash.html
)
According to a press release from Wasatch brewer Dan Burick, "Live and Let Live is a blond pale ale built with two beautiful malts and two wonderful hops, all fermented with a pair of yeasts." So, basically, what makes this beer unique and, I guess, sort of "gay," is the fact that it unnecessarily uses two yeasts. That's right, two yeasts ... at the same time.
This pairing of similar ingredients is a first for Utah and we think it's way overdue," continues Burick.
This is indeed correct; Live and Let Live is the first "queer beer" in Utah, and I suppose a delicious gay beer is long overdue. However, let us ignore the obvious question of, "do we really need a gay beer?" and just jump to the extremely pressing inquiry of, "what makes a gay beer ... well, gay?"
Since there's clearly no such thing as a gay palette, a gay beer is all about marketing and intention. On the surface, the 4 percent alcohol by volume Live and Let Live seems somewhat gay. The label features two sexless shapes of skier people and, as mentioned before, the beer features two of the same ingredients living together in the same bottle. So far, it's kind of gay.
As for intentions, the aim of Live and Let Live comes across as a bit watery. Wasatch Brewery is making a topical brew out of Utah's gay-marriage situation and clearly has good intentions with this beer, but the press release is just packed with goofy gay jokes and doesn't take a meaningful stance on supporting same-sex marriage: "Schirf points out that his brewery has been a practitioner of civil unions for years. 'In 2000, we entered into a partnership with another brewery much like ours,' he says with a smile, referencing a partnership with Squatters Craft Beers. 'Our Utah Brewers Cooperative is still happily 'married' today." Uuurgh, Great. Good one.
Clearly, what Utah's first gay beer needs is some historical context (
www.cityweekly.net/TheDailyFeed/archives/2014/02/18/how-gay-is-wasatch-brewerys-new-beer-live-and-let-live
).
2015: Queer Beer
No ambiguity here. We end our history just as we began, with another parody — this one a Super Bowl ad spoof by web superstars Bria and Chrissy, starring gay web megastar Davey Wavey as one of a winning team of steamy football players (and proud Queer Beer drinkers) who can't keep their hands off each other.
2016: The Portland Beer Book
Beer has come a long way since Schmitts and Coors. We now have fabulous craft micro beers, with the weird and wondrous city of Portland leading the way. The city has created a zine, The Portland Beer Book, to help you discover its unique beer culture, which is as welcoming to LGBTQ as to straight (
www.gaycities.com/outthere/35311/chug-a-lug-gurl-gay-beer-turns-25/
).
Bear (in het Nederlands ook wel beer genoemd) is een term uit de homoscene. Het betreft een stevig gebouwde en behaarde man, vaak getooid met een snor en/of baard. Bears vormen binnen de homogemeenschap een subcultuur.
Onder bears zijn ook weer verschillende groepen te onderscheiden, zo zijn er bijvoorbeeld musclebears, mannen die een massief en behaard lichaam hebben en daarbij vooral opvallen door veel spiermassa, daarnaast zijn er chubbybears, mannen die erg behaard zijn en gezet tot dik. En dan zijn er ook nog daddybears, meestal al wat oudere behaarde mannen, met als subgroep de polar bears, die gewaardeerd worden om hun zilvergrijze (overdadige) beharing (
https://nl.wikipedia.org/wiki/Bear_(homocultuur)
).
Gay Robert Brewer, Jr. (March 19, 1932 – August 31, 2007) was an American professional golfer who played on the PGA Tour and won the 1967 Masters Tournament ...
Brewer was born in Middletown, Ohio, and raised in Lexington, Kentucky. As an amateur, Brewer won the Kentucky State Boys Golf Championship in three consecutive years from 1949 to 1951. In 1949, he also won the U.S. Junior Amateur, the most prestigious amateur event for golfers under the age of eighteen. In 1952, Brewer won the Southern Amateur.
Brewer attended the University of Kentucky on a football scholarship because the school did not have golf scholarships. Head coach Bear Bryant used him in practice as a holder for the kicker on field goals and extra points. Brewer stayed at the school for two years.
(https://en.wikipedia.org/wiki/Gay_Brewer).
First gay brewery in the world? It's in Hillcrest June 13 2012
Hillcrest Brewing Co.
, which will have its grand opening next week, is the latest in a long line of local craft brewers. But it's laying claim to a boast that none others seem to be able to make: the first openly gay brewery in the world.
While it was never the owners' intent to become the first to develop a brewery catering to the LGBT community, news of its branding has certainly helped raise its profile beyond San Diego County.
"All of our restaurants have always been marketed for the gay community. That's our passion," said Chris Shaw, one of the owners, whose Mo's Universe Family of Restaurants includes Baja Betty's, Urban Mo's and Gossip Grill, all in Hillcrest. "We built the place to be comfortable for everyone to enjoy, but our primary focus is on the LGBT community."
The owners, though, are not shy about crowing about their new business' gay identity, adopting @QueensofBeer as their Twitter handle. "We are queer and we love beer," reads the description on their Twitter feed (
www.sandiegouniontribune.com/business/tourism/sdut-first-gay-brewery-in-the-world-its-in-hillcrest-2012jun13-story.html
).
Pride 13 XPA Commemorative Beer
by Hillcrest Brewing Company, San Diego
Released: 2013
Alcohol by volume: 4 percent
Ingredients: Chinook hops, Falconer's Flight and a blend of Pacific Northwest hops.
What makes this beer gay? Hillcrest Brewery claims to be the first LGBTQ brewery, and its only gay-specific beer, Pride 13 XPA, debuted for San Diego's Gay Pride Festival in 2013. The beer was launched as a limited-edition commemorative beer to celebrate the historic Stonewall Inn Uprising and the Prop 8 Ruling, which makes it pretty gay.
How was it received? The beer was released at only two locations and for two months. But since Prop 8 was deemed unconstitutional, you could say the beer went over pretty well (
www.cityweekly.net/TheDailyFeed/archives/2014/02/18/how-gay-is-wasatch-brewerys-new-beer-live-and-let-live
).
Gay Pride Beer In The Pipes Published July 26, 2013
A special beer is being brewed for the Gay Pride festival in Reykjavík and will hit the liquor stores next week. "We wanted to offer a beer that would represent solidarity," brewmaster Sturlaugur Jón Björnsson told visir.is.
"It's called Ástríkur, which is the Icelandic name of comic character Astérix who's from the Netherlands so we thought it fitting to make a Belgium inspired beer," Sturlaugur said.
The Icelandic translation of Astérix literally means "Rich of Love" so the name of the beer sets the mood for the upcoming Gay Pride festival (6-11 August) which celebrates love, acceptance and solidarity.
A limited edition of the beer will be produced but Sturlaugur says it might pop up again for next year's Gay Pride (
http://grapevine.is/news/2013/07/26/gay-pride-beer-in-the-pipes/
).