Is het een DENON? Is het een dubbele CD-speler? Is het een MP3-speler? Geen idee, maar op de voorgrond staat Peroni Doppio Malto.
Dit donkerblonde bier met wit schuim is 6,6%. Het bier heeft een moutige smaak, zeer moutig. Er is weinig hopbitterheid. De afdronk is misschien zelfs een beetje zoet te noemen.
Wat zeggen ze er zelf over?
"La Peroni Gran Riserva Doppio Malto" è stata lanciata nel 1996 per celebrare l'anniversario dei 150 anni della nascita di Birra Peroni, un prodotto che rappresenta l'eccellenza della tradizione Italiana, il meglio della selezione dei prodotti di qualità firmati e curati da tutta l'esperienza, Birra Peroni, dalla terra alla tavola.
Una birra dal caratteristico aroma speziato, conferito dal lungo processo di ammostamento a bassa temperatura e dall'utilizzo di malti speciali come quello al caramello in una ricetta che prevede l'impiego di solo malto e l'assenza di cereali non maltati, rendendo il prodotto una Birra Doppio Malto con un profilo di alta qualità e conferendole un gusto distintivo, una vera e propria "firma" di sapore.
Il tocco finale è dato dall'uso di luppoli aromatici che ne esaltano la bevibilità e dall'alto tenore alcolico ottenuto grazie alla presenza di un ampio numero di zuccheri.
La gamma delle Gran Riserva, oggi arricchita con il formato 50CL rappresenta la qualità dell'eccellenza Italiana accessibile a tutti, la scelta perfetta per esaltare ogni momento speciale che merita una birra d'eccezione per essere celebrato.
La Peroni Gran Riserva Doppio Malto è già premiata e riconosciuta a livello internazionale, raccogliendo apprezzamenti ai più importanti eventi del settore.
Nel solo 2013 i prodotti della Famiglia Peroni si sono aggiudicati ben 22 prestigiosi riconoscimenti a livello Internazionale. Il 2014 si è arricchito con altri premi tra i quali spicca il World Beer Awards e il Beverage Tasting Institute una soddisfazione continua e una fra tante conferme delle strada scelta da Birra Peroni: qualità, eccellenza e sostenibilità senza compromessi
(
www.birraperoni.it/benvenuta-alla-nuova-peroni-gran-riserva-doppio-malto/
).
Geen idee wat ze zeggen. Wat bedoeld Peroni?
"De Peroni Gran Riserva Double Malt" werd gelanceerd in 1996 om de 150ste verjaardag van de geboorte van Birra Peroni, een product dat de voortreffelijkheid van de Italiaanse traditie, de beste selectie van hoogwaardige producten ontworpen en onderhouden door te vieren alle ervaring, Birra Peroni, van boer tot bord.
Een bier met een karakteristieke kruidige geur, door het lange proces van maischen bij een lage temperatuur en het gebruik van speciale mouten zoals karamel in een recept dat het gebruik van single malt en het ontbreken van ongemoute granen brengt verleend, waardoor het product een dubbel malt bier met een hoge kwaliteit profiel en het geven van een karakteristieke smaak, een echte "signature" van smaak.
De final touch is het gebruik van aromatische hop die zijn drinkability verbeteren en aan alcohol verkregen dankzij de aanwezigheid van een groot aantal suiker (
https://translate.google.com/#it/nl/%...0Birra%20Peroni%3A%20qualit%C3%A0%2C%20eccellenza%20e%20sostenibilit%C3%A0%20senza%20compromessi.
).
Wat vinden anderen?
josanguapo, Jan 30, 2016
A bit in the sweet side. If this is their "grand reserve", I dont want to know their "normal" beer (
www.beeradvocate.com/beer/profile/258/4549/
).
Peroni Gran Riserva Doppio Malto
Ok, so to recap, my thoughts on Peroni beer looks like this:
Peroni Nastro Azzurro (Italian brewed): Finely brewed but ultimately bland-ish Premium Lager
Peroni Leggera: Suprisingly decent mid-strength low carb lager – would only drink for novelty value and for the sake of variation though. No particular reason to hunt it down.
In summary, nothing Peroni has offered me so far has been anything to get excited about.
Until now.
Nou daar ben ik het niet mee eens. Ik ben zelf meer fan van hoppige bieren zoals
My Antonia van Birra del Borgo
.
Gran Riserva Doppio Malto | Birra Peroni Industriale S.p.A.
Brewed by:
Birra Peroni Industriale S.p.A.
Italy
peroni.it
Style: Euro Pale Lager
Alcohol by volume (ABV): 6.60% (
www.beeradvocate.com/beer/profile/258/4549/
).
EmperorBevis, May 19, 2016
It's a golden yellow crisp clean clear body but the wispy white head just won't stay
It smells of armpits
Slight malty taste and alcohol
It goes okay I guess (
www.beeradvocate.com/beer/profile/258/4549/
).
TomMeikle, Mar 01, 2016
Not a big Peroni Nastro Azzurro fan but curios and bough both to compare. I put both the Nastro Azzurro and the Gran Riserva Doppio Malto into the fridge and tasted them at about 3 degrees C. Didn't like either. I re tasted the Gran Riserva Doppio Malto at around 12 degrees and really enjoyed it. It followed on from a Goose Island IPA and I was really surprised as it gave a nice rounded sweetness to follow on from the Goose Island. So for me, I would buy this again and serve at 12 degrees C (
www.beeradvocate.com/beer/profile/258/4549/
).
Dark gold with medium carbonation visible. Head becomes patchy quickly. Grainy nose. Tastes of rich malt sweetness as well as grains. Toffee. Mouthfeel is the best aspect of this beer: medium body, chewy, light carbonation. Infinitely better than the anaemic, gassy, ubiquitous, bog-standard Peroni Nastro Azzurro (
www.beeradvocate.com/beer/profile/258/4549/
).
Peroni Gran Riserva is a unique beer, quite different to the other Peroni's. Its a doulble malted beer, big on flavour, great for those winter nights (
www.amatos.com.au/Shop/Beer/Imported+Beers/Peroni+Doppio+Malto+Gran+Riserva+500ml+12pack
).
Peroni Gran Riserva Doppio Malto is a pure 100% Italian malt brand, brewed using the best two row spring barley varieties. Created to celebrate the 150th anniversary of the brewery foundation, it is one of the highest quality beers of Birra Peroni?s portfolio. Characterised by an intense gold colour, it combines a fine taste of malt and caramel with a delicate fruity aroma (
www.waitrose.com/shop/ProductView-10317--106716-Peroni+gran+riserva
).
(
www.ocado.com/webshop/product/Peroni-Gran-Riserva-Doppio-Malto/49230011
)
If you go to Pizza Express, this is what you must order to drink! .... At 6.6% and packed with malty flavour (Birra Doppio Malto as it says on the label) it's a real standout bottled lager. I was seriously happy to see it in the supermarket, and it tastes just as good at home, especially at a third the price the restaurant charges. Repeat – this is not an ordinary lager – just look at the colour in the glass. It is to be savoured (
http://justthesam.com/2009/06/beer-review-peroni-gran-riserva/
).
I've seen this beer sitting on shelves and I've always wondered about it. From what I've read the Peroni brand is tied to a few beers but the most well known globally is the premium larger Nastro Azzurro. Among the other names is this Gran Riserva which is probably best described as strong extra malt lager. Enticed by the mystery and the lovely gold and black bottle I thought it'd be worth trying. Here are my thoughts.
Colour: It pours a clear gold that boarders towards orange with a good amount of head.
Smell: It has (for a lack of better words) a typical lager smell which isn't exactly a bad thing but it also has a slight strawberry sweetness to it which I thought was particularly unique.
Taste: Staying true to the extra malt title it has a distinct biscuit notes that compliment the crisp larger flavours. The taste opens with a burst of crispness that gradually lets the malty flavours build with a slight bitterness. I wouldn't say it lacks flavour but the intense malts come across as quite bland after a while. It's not exactly unpleasant but all of the novelty is soon forgotten as it becomes bland. Halfway through and I have that feeling of when you've stuck to one flavour too long and it has become an effort to drink more. Despite this the strength of beer is masked quite well by the beer which is a plus I guess.
Feeling: It is has a solid crips carbonation that most lagers aspire to. This usually makes the beer refreshing but unfortunately here the favour just wan't to my liking and it juts made my distaste more pronounced.
Overall: A bit of anticlimax. I really don't know what I expected from this beer which makes it harder to say why didn't like it. As a specialty lager it sets itself high standards in quality that are worth the extra pennies, but for me it really isn't worth getting excited over at all. I can acknowledge why the idea of an extra malty beer is appealing but you really need to keep some over flavours with it otherwise it's just bland. But give it it's due this beer is brave enough to try something out of the ordinary and whilst I don't think I'll choose to have it again it definitely has it's supports. Also I think this beer's blandness might actually be it's strongest asset if you are pairing it food or something and I can also think of lot worse tasting lagers. But it is not for me (
https://beerpoetic.wordpress.com/2015/10/14/peroni-gran-riserva-doppio-malto/
).
Peroni Gran Riserva Doppio Malto
Brewed by Birra Peroni Industriale (SABMiller)
Style: Heller Bock
Roma, Italy
Serve in Dimpled mug, Stein
ABV: 6.6%
COMMERCIAL DESCRIPTION
An excellent beer emerges from the great Peroni tradition - PERONI GRAN RISERVA. A prestigious clear double malt beer with an alcohol content of 6.6%: this beer is the result of a careful, scrupulous selection of the most noble qualities of aromatic hops, yeast and a spring variety of distichous barley named "cherie". Ingredients are chosen with great attention and the experience of long-standing brewers (
www.ratebeer.com/beer/peroni-gran-riserva-doppio-malto/7976/
).
L_Lovecraft (284) - - OCT 7, 2016
slowrunner77 (10350) - Reno, Nevada, USA - OCT 6, 2016
nybol (1485) - DENMARK - SEP 25, 2016
triskaideka (367) - Killarney, IRELAND - SEP 20, 2016
cagou007 (1070) - FRANCE - JUL 23, 2016
Pours golden with thin white head. Nose is malty. Aromas are sweet malts, herbal and fruity hops. Average carbonation, medium body. Medium sweet and fruity finish (
www.ratebeer.com/beer/peroni-gran-riserva-doppio-malto/7976/
).
Review and Tasting Sampled on 02/11/2013
Appearance
Clear coppery amber with thin but lasting white head.
Aroma
Caramel and toffee malty nose.
Taste
Medium bodied, malty and toasty with a light hoppiness. Very slight toffee sweetness with strong alcohol adding necessary bite.
Aftertaste
Lingering malty caramel. Filling and satisfying rather than refreshing. An Italian beer with balls if not great depth of flavour (
www.diffordsguide.com/beer-wine-spirits/beer-cider-and-perry/lager-bottom-fermented/BWS000638/peroni-gran-riserva
).
A prestigious clear double malt beer with an alcohol content of 6.6%. This beer is the result of a careful, scrupulous selection of the most noble qualities of aromatic hops, yeast and a spring variety of distichous barley named Cherie.
Product Detail
Varietal Full Strength Beer
Brand Name Peroni Gran Riserva
Liquor Style Lager
Size 500mL
Vintage Non Vintage
Alcohol Volume 6.6%
(
www.danmurphys.com.au/product/DM_ER_1000004677_PGR-DM/peroni-gran-riserva-doppio-malto.jsp;jsessionid=D029F58FD025245391E473B699B81EE2.ncdlmorasp1303?bmUID=lxFOJ3V
)
An excellent beer emerges from the great Peroni tradition - Peroni Gran Riserva. A prestigious clear double malt beer with an alcohol content of 6.6%, this beer is the result of a careful, scrupulous selection of the most noble qualities of aromatic hops, yeast and a spring variety of distichous barley named "cherie". Ingredients are chosen with great attention and the experience of long-standing brewers. One of my favourite beers (
www.jimscellars.com.au/_product/view-product/peroni-doppio-malto-gran-reserva-500ml?id=3b1dbb44f6cf2627517fd7109febb925
).
Peroni Gran Riserva Doppio Malto Beer
alc./vol: 6.6% Proof: 13.2°
Categories: Bock (bok) beer, Doppelbocks
Italy's oldest and best-known brewer, Birra Peroni, launched this beer in 1996 to celebrate its 150th anniversary. Gran Riserva is brewed from Saaz hops and Prisma barley malt. The low temperature fermentation lasts 8 weeks and prolonged cellaring gives this Bock-style beer its mature flavour (
www.diffordsguide.com/beer-wine-spirits/beer-cider-and-perry/lager-bottom-fermented/BWS000638/peroni-gran-riserva
).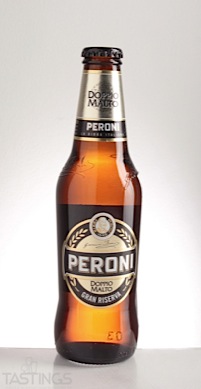 Birra Peroni
Peroni Gran Riserva Doppio Malto
Category: Märzen/Octoberfest
Date Tasted: 11/5/2014
Country: Italy
Alcohol: 6.6%
"Bright golden amber color. Delicate aromas and flavors of toasted baguette, praline, and egg custard with a creamy, tangy, frothy, fruity medium-to-full body and a tingling, interesting, medium-length finish displaying accents of pepper, dried fruit, radishes, and root vegetable. A rock solid malty lager."
Style:
Hoppy, Malty & Smooth & Mild
Aroma
Aroma:
toasted baguette, praline, and egg custard
Taste
Flavor:
pepper, dried fruit, radishes, and root vegetable
Bitterness
Bitterness:
Medium
Enjoy
Enjoy:
on its own and with food
Recipes
Pairing:
Roasted Cornish Game Hen, Margherita Pizza, Swiss
Bottom Line
Bottom Line:
A rock solid malty lager.(
www.tastings.com/Beer-Review/Birra-Peroni-Peroni-Gran-Riserva-Doppio-Malto-Italy-12-02-2014.aspx
)
Märzen beers are gold to dark amber in color and range from 5-6.5% in alcohol. These beers are characterized by a fuller-body, sweet toasted and toffee malt flavors and subtle hop character. These beers are malt-forward with flavors and aromas derived from Munich and Vienna malts. Closely related to the Vienna style, märzen-style lagers were originally brewed by Bavarian brewers in March to last through the fall. First officially introduced by Spaten Brewery at the 1841 Oktoberfest, märzen style beers have been linked to this celebration ever since. With only a few select breweries legally permitted to use the term Oktoberfest in Germany, the term "Octoberfest" has been adopted by US craft brewers for märzen style seasonal releases that coincide with the German festival. (
www.tastings.com/Beer-Review/Birra-Peroni-Peroni-Gran-Riserva-Doppio-Malto-Italy-12-02-2014.aspx
)
Deze Doppio Malto schijnt een deel van een serie te zijn:

Oro in Wenen categorie Peroni Gran Riserva rood, goud in de categorie Märzen / Octoberfest voor Peroni Gran Riserva Double Malt en goud in München Helles categorie Peroni Gran Riserva Pure Malt
Birra Peroni bevestigt nogmaals de Italiaanse uitmuntendheid in de wereld. Drie bieren van hoge kwaliteit van Peroni familie, Peroni Rossa Gran Riserva, Peroni Gran Riserva Pure Malt en Peroni Gran Riserva Double Malt, ze geslaagd met vlag en wimpel de strenge oordeel van de meester brouwers van Chicago.
De erkenning van het leiderschap van Peroni Gran Riserva aanbod in de industrie komt uit deze tijd Proeverijen World Beer Championships, de competitie georganiseerd door "Beverage Testing Institute". De competitie is gebaseerd op het proeven van alle concurrerende bieren komen van over de hele wereld. De smaak die scores en medailles verordent is de meest erkende meester brouwers van Chicago.
Drie gouden medailles verkregen met zeer hoge scores: Peroni Rossa Gran Riserva 94 punten op 100, Peroni Gran Riserva Double Malt 91 van de 100 punten en Peroni Gran Riserva Pure Malt 90 van de 100 punten. "Uitzonderlijk" was het commentaar van de jury voor de drie bieren die de top van de Proeverijen World Beer Championships dankzij hebben veroverd om hun zuiverheid en uitstekende kwaliteit 100% Italiaanse mout.
De Chicago experts beoordeelde de bieren van Peroni Gran Riserva scala van "sterke pils", de "heldere kleuren" en "ideale aanvulling op uw maaltijd." De bieren van de familie Peroni Gran Riserva, de prijswinnende Italiaanse uitmuntendheid.
Bron Persbericht december 2014 (
www.mondobirra.org/articolo4366.htm
)
Is Peroni Gran Riserva Double Malt nu München Helles, Märzen of Bockbier? Wat is het verschil?
Helles or Hell is a traditional German pale lager beer, produced chiefly in Southern Germany, particularly Munich. The German word hell can be translated as "bright", "light", or "pale".
Until the 1960s, Helles were universally available in German-speaking regions. In many regions, Helles was slowly replaced by Pilsner-style beers,[4] which was also driven by changing consumer preferences from draft beer to bottled beer. In regions outside of Southern Germany, Helles is regaining popularity, particularly Berlin, where the beer's traditional image has become trendy (
https://en.wikipedia.org/wiki/Helles
).
No region is more known for its beer than Bavaria. With summery weissbier and pilsner, autumnal Märzen and bocks for winter and spring, Bavaria has a brew for every season. But it's the golden lager known as Munich helles that serves as the most popular and common beer.
In German, "helles" denotes something light, bright or blonde, all of which describe the beer. Easily distinguishable from pilsner, helles has a muted hop character and soft malty accent. Barely a century old, helles is regarded by many as the absolute pinnacle of brewing science and art―a reputation well earned.
A proper discourse on helles requires an historical look at European brewing on the whole. No brew is more different from, yet more a product of its forebears, than this one. From that perspective, brewing seems the conditional and divine destiny of Central and Northern Europe, given its temperate conditions, fertile lands and technological proclivity. Cultivated grain and agriculture came to Europe from the Fertile Crescent. Trade and military roads, built by the Roman Empire, crisscrossed Europe, and the routes remained as crucial commercial arteries post-Empire.
Munich was founded as a monastic settlement along such a route and, as in much of Europe during the end of the first millennium, these monks were the preeminent brewers of the era. Their dedication, meticulousness and focus were second to none. Monks in the Hallertau region of Bavaria (near Munich)―always ahead of the curve―first cultivated hops in the 8th century AD.
Soon enough, brewing became more secularized, followed by inevitable competition, and eventually commercial, political and aristocratic friction and distrust. Guilds to protect product quality and brewing rights were formed, and a number of localities enacted laws to regulate the ingredients of beer. These were the forerunners of the Reinheitsgebot Purity Law of 1516, and established the Bavarian tradition of brewing exclusively all-malt beer.
About this time, bottom-fermentation was emerging as a means to ensure proper beer quality. The cool climate of the Alpen foothills offered conditions that favored slow, steady fermentation, with the side benefit of empirical selection of specialized house yeasts. Serendipitously, the nearby cool caverns were perfect to store and age finished beer. Noting the inferiority of beers made during warm months, authorities outlawed bottom-fermentation brewing between April 23 and September 29 (this did not pertain to top-fermented weizenbier).
Though pale beers were still over 300 years in the offing, Bavarians were busy honing their bottom-fermented dark lagers like dunkels and bock. This modus operandi would come in handy throughout the 19th century, when brewing technology blossomed, with one key byproduct being paler, cleaner malt. Finesse and subtlety would replace the rich, albeit rougher, dark malt character of older styles.
Pale malt, by relative standards, was being made in England during the 18th century via old methods of direct kilning. Lighter than the coarser brown malt favored for porters and stouts, it was used in the production of pale ales, or as a mollifying base for darker brews. By the early 19th century, malting improved markedly, making pale malt less expensive, cleaner-tasting and even lighter in color.
English pale ales caught the eye of two prominent European brewers from the mainland: Gabriel Sedlmayr of Spaten in Munich and Anton Dreher of the Dreher brewery in Vienna. Their junket to England in 1833 sparked a flurry of malting experimentation and eventually ushered in the "golden age" of brewing; specifically the development of pilsner, and subsequently, golden derivative lagers that came to dominate the brewing landscape.
Sedlmayr's first "pale" beer was a bottom-fermented Märzen introduced to the public at the Munich Oktoberfest in 1841, made with his newly developed amber Munich malt, decidedly paler than that made for dunkels and bocks. Dreher's new brew, made with his Vienna malt, was offered to the public mere months later, and was even lighter than Sedlmayr's.
Meanwhile, Bavarian transplant Josef Groll was busy making golden malt and even paler brew in Plzeň, Bohemia. This golden lager known as pilsner essentially changed brewing history. Brewers scrambled to compete with the new beer from Bohemia. Except for those in Munich, that is. Bavarian beer was expected to have some color, as they were famous for the reddish brown, and very traditional, dunkels and bocks. Even Märzen beers were considered unconventionally pale by comparison.
After years of tinkering, Sedlmayr's sons (now in charge of the brewery) finally made the malt they desired, resulting in the test introduction of the new Munich helles in 1894. The new blonde beer was heartily accepted by most, but it was viewed by some of the old guard as a surrender of esteemed tradition. Bavarian brewers disagreed whether this was an affront to their proud heritage or a necessary commercial concession to trends and modernization, and more importantly, commercial viability. Wisely, the old-timers acquiesced, and brewers throughout Germany began adding helles to their repertoire. Markedly different than pilsner, it was maltier and less hop-forward, features favored by Bavarians.
Helles is the Bavarian answer to the plain, uncomplicated, flavorful and carefully crafted beers consumed on a regular basis by the masses. Beers such as this rely on a simple recipe made with the highest quality ingredients, and craftsmanship that is able to entice the maximum from a somewhat Spartan approach. What else would we expect from the some of the finest brewers in the world? A bill of German pilsner malt and a noble hop variety are all that is needed to produce the unpretentious helles wort.
The subtle, underlying malt sweetness and delicate grain notes are characteristics of the malt itself, and provide enough depth for a beer of simplicity―this is complimented by a soft, medium body and mouthfeel derived from the protein-rich nature of the malt and the mashing skill of the brewer.
Though slightly tilted towards the malt, helles is a well-balanced beer. It offers the spicy, herbal aroma of German hops at restrained levels, and enough bitterness in the finish to dry the palate. The clean finish is, of course, a product of generations of carefully selected bottom-fermented yeast and full lagering. Bavarian yeast tends to produce malty, dextrinous brews, characteristics evident in helles.
There may be hundreds of them to be found fresh on draft, a staple in brewery-rich Bavaria. Most run about 4.8 to 5.2 percent ABV, but those in the range of 5.5 to 5.9 percent can also be found. These stronger versions, made alongside regular helles, are often brewed as a special or festive brew. In fact, some beers presented at the Munich Oktoberfest are deep golden and not the amber hue that we would expect in exported Märzen. These are essentially more formidable helles. There are some stellar versions made in America, with Stoudt's Golden Lager, Victory Lager and Penn Gold among the best.
Most true beer lovers need not be reminded that there is plenty to appreciate in elegant simplicity, easy drinkability and sublime refinement. Helles was the final frontier for the brewers of Bavaria: the polished consummation of centuries of brewing, standing proudly among the great beers of the world. Bohemian pilsner may be more copied, but helles remains a Munich original. (
http://allaboutbeer.com/article/munich-helles-5/
).
Uit dit verhaal maak ik op dat helles, märzen, vienna en bockbier eigenlijk allemaal wel in dezelfde groep zitten...
Daar er bijna geen wettelijke definities van biersoorten bestaan is het classificeren van bieren per soort zeer moeilijk en altijd voor veel discussie vatbaar. Zelfs de meest eenvoudige onderverdeling in bieren van lage gisting, spontane gisting en hoge gisting is moeilijk: er bestaan namelijk bieren verkregen door een combinatie van verschillende soorten gisting. In feite kunnen alle voorkomende biersoorten worden afgeleid uit de soorten van 3 landen: Groot-Brittanië, Duitsland en België. De bieren in de rest van de wereld zijn varianten daarop. Daarnaast bestaan in sommige landen nog bieren die niet onder een van deze soorten is thuis te brengen, dit is met name het geval in België.
...
Donkerbok - Najaarsbok - Herfstbok - Winterbok...
Alcoholpercentage: 6-7% begin SG t/m 1059
Kleur: donker koperkleurig tot donkerbruin; diep roodbruin (min. 40 EBC)
Smaak: bitter-zoetig, zacht caramelmoutig, soms iets branderig
Soort gisting: hoge/lage (oorspronkelijk hoge)
Schenktemperatuur: 10-12oC
Aanbevolen glas: bokaal of ballonglas
...
Dubbelbok - Doppelbock
Extra zwaar, laaggegist bier, voor het eerst gebrouwen door Italiaanse monniken in Beieren onder de naam Salvator. In Duitsland zijn er op zijn minst 200 voorbeelden van. Gewoontegetrouw eindigen de merknamen op -ator. Het stamwortgehalte mag niet minder zijn dan 18oP. Soms wordt 28oP bereikt (EKU Kulminator). Alcoholpercentage: 7.5-13.0% (in het verleden werden er echter ook bieren verkocht onder de naam Salvator, met slechts een alcoholpercentage van ca. 4% (1853)). Schenken op kamertemperatuur of lichtgekoeld. Bokbieren met een stamwortgehalte hoger dan 18oP; 'gewone' bokbieren hebben een stamwortgehalte hoger dan 15.5oP. Dubbelbok: begin SG 1060 t/m 1080, kleur min. 40 EBC
...
In Duitsland kent men van de meibok ook Doppel- en Eisbockvarianten. Soms verhoogt men bij meibok de hopgift om een betere balans te krijgen tussen mout- en hopsmaak.
Alcoholpercentage: 6.5-7% (of meer: doppel- en eisbockvariant); begin SG 1060 t/m 1080
Kleur: donkerblond/amber tot lichtkleurig, max. 30 EBC
Smaak: overwegend moutig, soms ook iets bitter, iets zoetig
Soort gisting: hoge/lage (oorspronkelijk hoge)
Schenktemperatuur: 10-12oC
Aanbevolen glas: bokaal of kelkglas
Wat is nu het verschil tussen een meibok en een najaarsbok? De sterkte van beide bokbieren ontloopt elkaar niet veel. Het grote verschil is echter, dat voor een meibok minder donkere (gebrande) moutsoorten worden toegevoegd, zodat de kleur lichter blijft. Het najaarsbokbier heeft meer donkere mout, zodat de kleur donkerder is. Door deze donkerder mout kan ook een caramelbittere smaak ontstaan. Dat is de reden dat veel najaarsbokken (deels) worden bijgekleurd met bruine kandij in plaats van met kleurmout, omdat de brouwers menen dat de caramelmout-smaak niet zo bevalt bij het grote publiek.
....
Märzen of Spezial
Voor de uitvinding van de koelmachines werd dit bier in maart gebrouwen en was vanwege het hogere alcoholpercentgae in de zomer beter houdbaar. Het zou kunnen worden beschouwd als een kruising tussen de lichte en de donkere bock met een wat lager alcoholpercentage en een nog wat lagere hopgift. De smaak is dus uitgesproken moutig, waarbij nauwelijks of geen hopsmaak meer te onderscheiden is. Dit bier wordt in Duitsland (Beieren) in maart gebrouwen en tijdens de Oktoberfesten gedronken. Het Oktoberfestbier is meestal langer gelagerd Marzen
Alcoholpercentage: 5.5-6%
Kleur: donker amber tot donkerbruin; roodachtig bruin
Smaak: moutig met weinig hopsmaak; bitter-zoetig (33ebu; hoppig, i.e. Oldenburgen Marzen)
Soort gisting: hoge/lage (oorspronkelijk hoge)
Schenktemperatuur: 10-12oC of wat koeler
Aanbevolen glas: bierpul
...
Weens - Wiener - Vienna
Rond de eeuwwisseling was Oostenrijk beroemd om het Weense biertype, een zeer fraai amberkleurig bier van lage gisting met een heel fijne smaak. In de periode na de Eerste Wereldoorlog is dit bier in Oostenrijk echter geheel verdwenen, maar bijvoorbeeld in Mexico wordt het nog steeds gebrouwen. Gebrouwen met Wiener mout, die nog maar zeldzaam te verkrijgen is. Het Weense type bevat wat minder alcohol en is wat zwaarder gehopt dan het Märzen. In Duitsland en sommige andere landen (maar niet Oostenrijk) staat Weens bekend als Märzen. In zijn vaderland wijst de term Spezial op de traditionele Weense stijl, het Oktoberfestbier uit München.
Alcoholpercentage: 4-5.5%
Kleur: amber
Smaak:
Soort gisting: lage
Schenktemperatuur: keldertemperatuur
(
www.cambrinus.nl/bier/naderbekeken/biersoorten.htm
)
Dus verschil tussen Vienna is wat minder in acohol en wat zwaarder in alcohol dan een Märzen, die op zich minder kort is gelagerd dan een Oktoberfestbier uit München. Allen worden gekenmerkt door een moutige smaak en weinig hop.
Oktoberfestbier
a.k.a Märzen or Märzen-Oktoberfestbier
Definition:
Technically, authentic Oktoberfestbier is brewed only by the breweries within the city limits of Munich. These are also the only breweries allowed to participate in the annual Munich Oktoberfest. All other beers brewed to emulate the original must be labeled Oktoberfest-style beer. In spite of their name, Oktoberfest beers are not brewed in the fall. They are actually an outgrowth of the traditional, strong spring brews, called March beers or Märzen, that were put aside in ice-filled caves or cellars for summer consumption. The left-over Märzen was usually finished off... in Okotober, when the fresh beers made with the grain and hops from the new harvest season needed to be put into casks. Oktoberfestbiers, therefore, are always well-aged, sometimes for three to four months. They are usually deep amber in color and have an alcohol content of 5 to 6.2% (
www.germanbeerinstitute.com/Oktoberfestbier.html
).
A Spring Brew for Fall
About half a millennium ago, brewers in Bavaria had difficulty controlling the quality of their brews in the summer, and they didn't have a clue why their beers often tasted sour and medicinal during the hot season. However, they had learned from experience that beers brewed roughly between early October and the end of March tended to taste clean and appetizing. Nowadays, of course, we understand that, in the foothills of the Alps, it got much too cold in the fall and winter for most airborne microbes to survive and spoil the brew. So the Bavarian brewers resorted to a simple but effective strategy that ensured a drinkable beer supply for the summer. They worked overtime in their brewhouses in late winter to make plenty of potent and well-hopped "March" beer, Märzen-Bier in German. Its color was deep amber to copper and its alcohol content probably somewhere between 5 and 6%. These beers were full-bodied with a malt-accented finish.
To keep these Märzen beers fresh during the summer months, they were stored in casks in cool cellars and mountain caves, some filled with ice from the previous winter. The beers were released gradually starting in late spring or early summer. The high alcohol and hop content served as preservatives and the ideal storage conditions ensured that this beer kept well and actually matured and improved as summer turned into fall. It probably became especially good near the end, when the hops would have mellowed out and the brew's malty character would have come fully to the fore. By October however, after the year's grain harvest, the last of the Märzen beers had to be consumed so that the precious casks could receive the new brewing season's fresh delectables. Now, combine the pressure on those poor medieval souls to vacate the needed cooperage in a hurry with their innate propensity for having a jolly good time, and the concept of an Oktoberfest emerges almost automatically—as does the name by which this Märzenbier is most commonly known: Oktoberfestbeer.
Like most medieval beer styles, the Märzen-Oktoberfest evolved with advancements in the art of brewing. It underwent its first systematic, brew-technical change in 1841 at the hands of two brewmaster friends, Gabriel Sedlmayr and Anton Dreher. These gentlemen were the owners of the Spaten Brewery of Munich and the Dreher Brewery of Vienna, respectively. Both brewers cooperated in lightening the color of the traditional Märzen-Oktoberfest's grain bill (Dreher more so than Sedlmayr) by the addition of a new, slightly caramelized, but fairly pale malt to the grist—a malt which we now call Vienna malt. At that time, Sedlmayr was already using nothing but lager yeast for his Märzen, while Dreher was not. So Dreher switched to Sedlmayr's yeast. In Munich, the new beer continued to be called a Märzen, but with the cosmopolitan tag line "gebraut nach Wiener Art" (brewed the Vienna way). But on Dreher's home turf, in Vienna, the new beer was given a new and separate style designation, Vienna Lager.
The "Vienna way" of brewing was arguably more of a marketing than a brew-technical term. It was true that the color of the two 1841 brews was raised well above that of the standard beers of the day, but it was not yet as blond as the Pilsner lager, which was to be introduced a year later by the Burgher Brewery of Pilsen, in 1842. In reality, both Dreher's and Sedlmayr's beers were still made the traditional Munich way, with an emphasis on multi-step decoction, the use of caramelized malts for body and some nutty sweetness, relatively long wort boils, low hopping rates to preserve the brew's predominantly malty character, and relatively long lagering periods for mellowness.
The Munich Märzen of "the Vienna way" became "re-Bavarianized" in 1871, when the Spaten Brewery introduced at that year's Munich Oktoberfest a reformulated Märzen beer with a slightly darker version of Dreher's Vienna malt, a new malt which we now call Munich malt. This new märzenbier was marketed under the explicit brand name of Oktoberfestbier, the one we still use today.
Also, with the spread in the nineteenth century of scientific brewing methods, including controlled malting, yeast management, beer filtration and especially refrigeration, ion, Germans (and the world) could brew great-tasting beers of any style any time of the year, not just during the cold season. Thus, there was no longer a need for the mass production of Märzen-Oktoberfestbier in the spring. Instead, Bavarian brewers made their strong March-type beers only if and when they wanted to, usually as specials. The also shaved some time off the long lagering periods that the Märzen-Oktoberfest beer received in the Middle Ages. In a modern, bottom-line driven brewery, storing beer in refrigerated stainless-steel tanks for six months is considered a rather expensive luxury. Such extensive lagering is practiced only if it is a brew-technical necessity and the beer's sales can amortize the extra investment. As a result, brewers now package their beers as soon as they are ready. As a general practice, Märzen-Oktoberfest beers that are marketed without the Oktoberfest suffix on the label may now be lagered no longer than six to eight weeks, while beers that carry the hyphenated Märzen-Oktoberfest designation (or the Oktoberfestbier name just by itself) may have stayed in lagering tanks for about 12 to 16 weeks.
From this discourse it ought not to be surprising that the style definition of the Märzen-Oktoberfest-Vienna is somewhat fuzzy and perhaps controversial. However, ther is much history behind the brew's three-part name...and its namesake beer party, the Munich Oktoberfest (
www.germanbeerinstitute.com/Oktoberfestbier.html
).
Dus Märzen- en Oktober(fest)-bier is eigenlijk het zelfde bier maar met een verschil in lageringsduur.
Vienna is een vorm hiervan met een andere moutreceptuur. Gabriel Sedlmayr (Spaten Brewery uit Munich) en Anton Dreher (Dreher Brewery uit Vienna) hebben hierbij een rol gespeeld. Het maïschschema schijnt van belang te zijn en de gist. Er werd omgeschakeld van bovengistend naar ondergistend. Door de opkomst van de koelmachine werden de Märzen- en Oktober(fest)-bieren eigenlijk verdrongen door April-September-bieren... Brouwen kan nu het hele jaar door en het lageren kan door de toegenomen vraag en aanbod niet zo lang meer als vroeger. Maar goed even terug naar Italië. Peroni Doppio Malto zou je volgens mij tot een Vienna kunnen rekenen (Italië grenst immers aan Oostenrijk), maar märzen/oktoberfest zou dus ook passen...