Is er bier met peper?
Ja, en sterker nog het is een hele bierstijl:
Chile Beer
Description:
Typically basic light colored ales, but sometimes lagers, brewers will add various hot pepper juice, oils, or actual peppers to the beer - jalapeño chiles being the most common pepper used. Hotness can range from a subtle spiciness to palate scorching. Average alcohol by volume (abv) range: 4.5-6.0% (
www.beeradvocate.com/beer/style/163/
)
Of all the subsets of craft brewing, pepper brewing—where brewers add hot pepper juices, oils, or actual peppers to the beer—is definitely the spiciest. Beers range in hotness from subtle to scorching and they're time-consuming endeavors that are difficult—if not downright dangerous—to mass produce.
"In some regard, the beer is just a medium to convey the flavor of the peppers," says Tom Whisenand, co-founder of Indeed Brewing, whose flavorful Hot Box Imperial Smoked Pepper Porter is made from Imperial Porter aged over smoked poblano and jalapeño peppers. "That's the beauty of craft beer: You can take unique ingredients and still make a beer that's very palatable and enjoyable, and for some people, the greatest beer in the world."
Think you can handle the heat? Read on for some of our favorite pepper brews (
www.outsideonline.com/1926596/hottest-pepper-beers-market
):
Mexicali Stout, 5.7% ABV
Birdsong Brewing Company (Charlotte, North Carolina)
Though Birdsong's Jalapeño Pale Ale is tasty, we're partial to the company's spicy, chocolatey Mexicali Stout. Using local coffee and fresh spices, Birdsong brewers have created a solid stout with a touch of heat at the end—perfect for cool fall days (
www.outsideonline.com/2149276/drink-more-young-whiskey-its-ethical-thing-do
).
New Belgium + Cigar City Collaboration Ale, 8% ABV
New Belgium (Ft. Collins, Colorado) and Cigar City Brewing (Tampa, Florida) collaboration
Out of all the "Lips of Faith" collaborations between New Belgium and other breweries, this one might top the list. Belgian yeast, citrusy hops, and Anaheim and Marash peppers come together to create the perfect combination of sweet and spicy. Aged on Spanish cedar, this beer has a lingering spicy, peppery finish that will leave you wanting more (
www.outsideonline.com/2149276/drink-more-young-whiskey-its-ethical-thing-do
).
Jalapeño Imperial IPA, 8.5% ABV
Alaskan Brewing Company (Juneau, Alaska)
Right away, the scent of this Alaskan IPA greets you with the juicy, hop-forward aroma of jalapeños. So it should: Fresh jalapeños are used during brewing and also during fermentation. Result: full-bodied flavor and a powerful kick. With maximized jalapeño flavor and a smooth malt body, this IPA is a perfect pairing for heavy pub food (
www.outsideonline.com/2149276/drink-more-young-whiskey-its-ethical-thing-do
).
Theobroma, 9% ABV
Dogfish Head Brewery (Milton, Delaware)
In a nod to early civilizations—and part of Dogfish's Ancient Ale series—this chocolate brew is a glorious blend of Aztec cocoa powder and cocoa nibs, honey, chilies and fragrant tree seeds. "Theobroma" translates to "Food of the Gods," and that seems about right. If you're looking for a complex beer that seems to change with every sip, this should be your choice (
www.outsideonline.com/2149276/drink-more-young-whiskey-its-ethical-thing-do
).
Hot Date, 6% ABV
Piney River Brewing Company (Bucyrus, Missouri)
Though its moniker may seem like a cloying play-on-words, Piney River's handcrafted amber ale is aptly named. Brewed with limestone-filtered Ozark spring water, sweet dates, and a touch of chipotle pepper, this malt-forward ale is warm at the beginning, sweet in the middle, and spicy at the end—just like a good date (
www.outsideonline.com/2149276/drink-more-young-whiskey-its-ethical-thing-do
).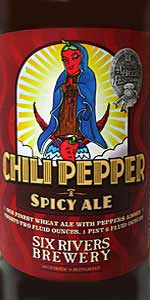 At Stone Brewing Company, Research and Small Batch Manager Steve Gonzalez knows he's in for some pain when it comes to preparing Crime and Punishment, the brewery's hottest pepper-infused ales. He'll chop, deseed, and sanitize the searing peppers that give the beers their spicy clout: red and green jalapeño, Fatalii, Caribbean Red Hot, habanero, ghost, Black Naga, Moruga Scorpion, 7-Pot, Aji amarillo, Giant White Habanero and Douglah, to name just a few (
www.outsideonline.com/1926596/hottest-pepper-beers-market
).
Habanero Sculpin, 7% ABV
Ballast Point (San Diego, California)
With a light body and bright flavors including apricot, peach, mango, and lemon, this crisp IPA is balanced by the citrusy kick of habaneros. If you're interested in something that starts sweet and swerves quickly to a burn, this beer is for you. For a complete meal, try pairing it with something flavorful like Jamaican jerk chicken (
www.outsideonline.com/1926596/hottest-pepper-beers-market
).
SMOKE SCREEN WITH JALAPENO LAGER
Pours a pale golden straw color with a fluffy bright white head. Aromas of cooking bacon, fresh baked French bread a hint of honey and fresh cut grass. Pilsner Malt and 40% Beechwood Smoked Malt from Germany builds the foundation of this simple recipe with complex flavors. Hersbrucker Hops and Spalt Hops add a touch of green tea and lemon zest to the overall balance of this Smoked Helles. Medium bodied with an oily texture that still finishes fairly dry. First brewed as a collaboration between Ballast Point Brewing and Spirits and respected local homebrewer Harold Gulbranson (member of QUAFF). Brewed for the Pro-Am competition at 2011 national Homebrewers Conference held in San Diego. A smoke screen is smoke released to visually mask the movement or location of military units such as infantry, tanks, aircraft or ships. Smoke Screen Lager masks it's savory flavors of smoke, usually associated with darker beers, in a visually light approachable lager inspired by the beers of Bamberg, Germany! (
www.ballastpoint.com/beers/pepper-beers/
)
DORADO WITH SANSHO BUTTONS, SZECHWAN PEPPERCORNS, AND DRIED GHOST PEPPERS DOUBLE INDIA PALE ALE
Our Dorado Double IPA immediately hooks you with massive hops that never stop. Mash hopping, kettle hopping and dry hopping makes this beer a serious hop lover's prize catch. It's an amazingly drinkable, award-winning beer that's as beautifully balanced as it is big (
www.ballastpoint.com/beers/pepper-beers/
).
What do chili beers taste like? What do they look like? What are the do's and don'ts a first-time chili-beer brewer should heed? Well, come back here, out of the light, and I'll share my secrets. But don't tell anyone else.
First and foremost, a chili beer must be a beer. The chili is secondary. The beer itself must be sound, solid, balanced and worth brewing. Second, even if you love hot food, a chili beer will be hotter than you think, and too hot for most people, so don't plan on taking it to a neighborhood potluck dinner. Third, ask yourself the very serious question, "Do I really want to do this?" If you answer yes, go ahead. Fourth and final recommendation: wash your hands with soap (water alone doesn't work), before, but especially after handling the peppers!
Capsicum, the stuff in chilis that causes heat, can burn you big-time-your hands, eyes, nose. Some peppers are dangerous enough to warrant wearing disposable rubber gloves. Trust me, I've been there.
A word about peppers: The best peppers to use are little ones-several varieties can be found that are an inch to two inches long, and these fit neatly into beer bottles. Green, fresh peppers are not quite as intensely hot (usually) as dried red ones, and may have more sweetness to balance the heat. If you are not putting them into the bottles, you can use bigger ones in the boil or in the fermenter, which may be more economical. Part of it is presentation- a pepper in the bottle works like a worm in a bottle of mescal - a clear warning! The absence of a pepper may allow your beer to sneak up on the drinker.
Each of these recipes calls for adding a pepper to the bottle, but that is only one way to get chili in your beer. I like to think chilis react like hops: They contribute different degrees of flavor and aroma, depending on when and how they are added to the batch.
Add the chilis to the bottle if you want the drinker to know it's there, and if you want the chili flavor to increase as the beer ages. The alcohol in the beer will leach out the hot and the fruity-spicy pepper flavor over time, and it won't get overly harsh. This will also give you a fair amount of hot peppery aroma. The ultimate in "dry-hopping"! (
http://byo.com/body/item/859-hot-hot-hot-brewing-with-chili-peppers
)