Ms. Shea, 29, and Mr. Valand, 28, are the founders and owners of Brooklyn Brew Shop in Brooklyn, which makes and sells gallon beer-brewing kits for use in small spaces. ... Brewing beer became a regular weekend activity for the couple. But they found her father's five-gallon kit to be almost impossible to use in a tiny New York apartment, so they decided to create a one-gallon kit by using parts they found online (
www.nytimes.com/2014/04/20/fashion/weddings/it-just-needed-time-to-brew.html?_r=0
).
They became a couple and spent much of their free time working together on cooking and kitchen projects. For Christmas that year, she gave him her father's old beer-brewing kit, which she had found in the basement.
Brewing beer became a regular weekend activity for the couple. But they found her father's five-gallon kit to be almost impossible to use in a tiny New York apartment, so they decided to create a one-gallon kit by using parts they found online. They considered opening a business together selling kits, but they were hesitant, since their relationship was still relatively new. As a test, they decided to go on a seven-week backpacking trip throughout Europe (bonus: numerous beers to taste), and if they still liked each other after the trip, they would go into business together.
They quit their jobs in March, left for Europe in April and returned mid-June. On July 5, 2009, Brooklyn Brew Shop opened a stand at the Brooklyn Flea markets (
www.nytimes.com/2014/04/20/fashion/weddings/it-just-needed-time-to-brew.html?_r=0
).
When you go from an actual salary down to $0 an hour, it's quite an adjustment," admitted Shea, who got the bug for beer making after she stumbled across her dad's old home brewing kit. But when Shea and Valand went to brew their first batch they discovered there was no place in New York to buy the ingredients, so they created the Brooklyn Brew Shop. The kits take up only a foot of floor space and come with everything needed to brew your own beer.
Shea said they opened their stand, which they rent for $100 a day, on the July 4th weekend, but sold just five kits. By the end of the month they had moved 40 kits, which go for $40, or $30 without grain. The kits, which make about 12 bottles through a four-week process, include a 1-gallon glass jug, some tubing, a racking cane, a thermometer, sanitizer and the yeast, hops and grain (
http://blogs.reuters.com/small-business/2009/10/22/beer-startup-needs-to-create-a-buzz/
).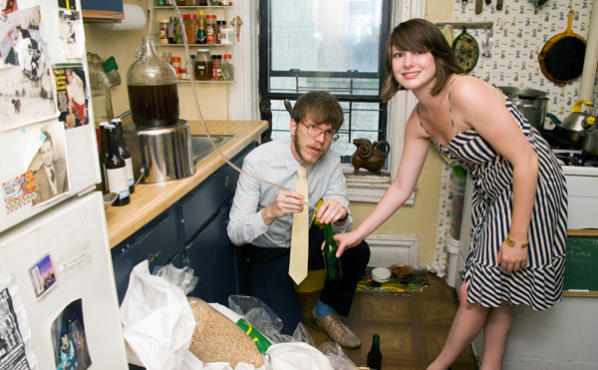 Recently named to Forbes' 2014 "30 Under 30" list, Erica Shea and Stephen Valand are co-owners and founders of the Brooklyn Brew Shop in New York. These two are constantly on the look-out for the newest, hippest beer flavors, and in Make Some Beer: Small-Batch Recipes from Brooklyn to Bamberg, their second book, they are getting out of Brooklyn to feature interesting recipes (Mesquite-Smoked Porter! Oatmeal Cookie Raisin Stout!) and rich brewing communities in the United States and beyond.
The Brooklyn Brew Shop's latest book includes 30 new recipes inspired by and created with popular craft breweries from all over the world, including Goose Island in Chicago, Ommegang and Brooklyn Brewery in New York, Ranger Creek in Texas, and many more.
More than just recipes, Make Some Beer also includes information for young brewing fanatics on booking their own beer tasting tours, regional food pairings with food recipes (BBQ, burgers, pretzels, and more), stories from the breweries, and cool illustrations and introductory information to get aspiring brewers started or help those with experience take their brewing to the next level (
www.powerhousearena.com/events/book-launch-make-some-beer-by-erica-shea-stephen-valand-founders-of-brooklyn-brew-shop/
).
ERICA SHEA & STEPHEN VALAND are co-owners and founders of the Brooklyn Brew Shop and the authors of The Brooklyn Brew Shop's Beer Making Book. They sell their beer making kits and ingredient mixes at BrooklynBrewShop.com, Urban Outfitters, Bed, Bath, & Beyond, and Whole Foods. Both they and their kits have been featured in Food & Wine, the New York Times, Real Simple, Cosmopolitan, Serious Eats, and on the Early Show, Regis & Kelly, ABC, NBC, and Fox (
www.powerhousearena.com/events/book-launch-make-some-beer-by-erica-shea-stephen-valand-founders-of-brooklyn-brew-shop/
).
Ze zijn niet de enige thuis/hobby-brouwers: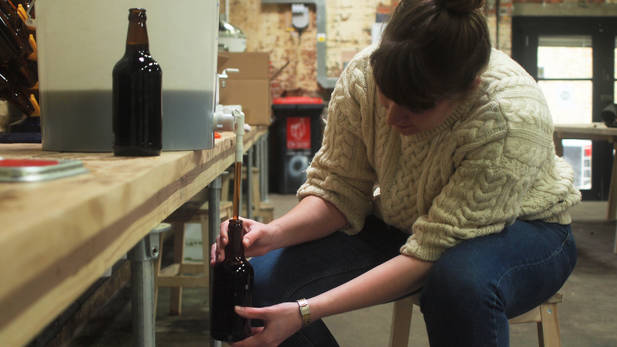 Brewer Matt Whalen and his homemade bottler.
Sam Calagione, who founded Dogfish Head Craft Brewery in 1995 with his own home brewing equipment, understands the struggles Shea and Valand are going through to grow their business and felt they have the passion and commitment to make it work. Calagione said the craft beer and homebrewing movements are "thriving" and are being driven by the greater "'localvore' movement as people are treating themselves to gourmet coffee, bread, beer, etc. when they might not be able to afford a new house or car or large purchase."
Calagione suggested Shea and Valand bang the drum more about Brooklyn Brew Shop by getting more involved with online communities around homebrewing, such as the ones at Ratebeer.com and the Beeradvocate.com. He said they might also try connecting with "crafty" types on websites like Etsy.com. To further promote their product, Calagione advised renting booths at places where serious beer drinkers hang out, such as farmers markets, craft fairs and beer festivals.
Calagione said they should also offer 5-gallon jugs "as the space it would take to make 5-gallon batches isn't five times as big as the 1-gallon batch and the brewers could yield over two cases of great beer instead of 12 bottles." (
http://blogs.reuters.com/small-business/2009/10/22/beer-startup-needs-to-create-a-buzz/
)
Home brewing 101 Make your own beer.
By Mari Uyehara Tue Feb 15 2011
Brooklyn Brew Shop Beer-Making Kits Newbies can get their toes wet with these one-gallon starter kits. The apartment-friendly sets are the brainchild of Brooklyn Flea darlings Erica Shea and Stephen Valand. Each one comes with your choice of brew-ready mixes featuring grain, hops and yeast; choose from recipes such as the Everyday IPA or a Honey Sage Seasonal. Check out free instructional videos on the shop's website to help you along the way. Available online and at locations throughout the city; visit brooklynbrewshop.com. $40.
Brooklyn Homebrew Equipment Kits A full assortment of five-gallon kits is available at this dedicated home-brew storefront in Park Slope. Husband-and-wife team Benjamin Stutz and Danielle Cefaro offer everything from a $45 bare-bones setup to a $395 styled-out colossal kit including every accoutrement on a master brewer's mind. The shop also carries hops, grains, yeast and flavorings. Available at Brooklyn Homebrew, 163 8th St between Third and Fourth Aves, Park Slope, Brooklyn (718-369-0776, brooklyn-homebrew.com). $45-$395.
Brewer's Best Kits These top-of-the-line sets are the gold standard for serious brewers. The equipment boxes don't include ingredients, but you can pick those up in the store, and visit brewersbestkits.com for recipe ideas. Available at Whole Foods Bowery Beer Room, 95 E Houston St at Bowery (212-420-1320). $97.99.
Home-brew classes
Brewshop 101: Brewing Essentials at City Brew Shop Early adopters can get a taste of New York's first home-brewing educational facility before it opens. Suds enthusiasts Douglas Amport and John LaPolla are running their classes out of a hacker collective's space in Brooklyn until they settle on a location for their own brick-and-mortar shop. Learn how to make beer from start to finish, and pick up easy fixes for common brewing problems. NYC Resistor, 87 Third Ave between Bergen and Dean Sts, fourth floor, Boerum Hill, Brooklyn (917-453-6616, citybrewshop.com). Next class: Sun 20 2--4pm; $55
Intro to Homebrewing at Brooklyn Kitchen Aspiring brew geeks can get schooled at the hub of Williamsburg's DIY food scene. Ray Girard (former president of the New York City Homebrewers Guild) gives all the basics on brewing, from milling grains to bottling. Plus, attendees get to take home some goodies: a few bottles brewed in class and an equipment starter kit. 100 Frost St at Meeker St, Williamsburg, Brooklyn (718-389-2982, thebrooklynkitchen.com). Next class: Sun 20 2-4pm; $125.
Look for classes at Whole Foods Bowery Beer Room starting this summer.
Home-brew socializing
New York City Homebrew Tour Malt voyeurs can get a peek inside some of NYC's best amateur setups when beer scribe (and TONY contributor) Joshua Bernstein takes guests into the apartments of three superlative local brewers. Taste their concoctions, talk about their process, and see how they make it all happen in the confines of their NYC abodes. The next tour is tentatively planned for Mar 12; e-mail josh.bernstein@gmail.com for more details. $25.
Beer Table Homebrewer's Meetup All are welcome at this tavern's monthly home brewer meet-up. DIYers gather on the last Monday of every month to share their homemade suds, sample others' creations and trade notes. You don't have to bring your own to participate, but empty-handed attendees often reward the beer makers with some grub from Beer Table's hearty menu. 427B Seventh Ave between 14th and 15th Sts, Park Slope, Brooklyn (718-965-1196, beertable.com). Last Monday of the month 9pm; free.
Brooklyn Wort: Brooklyn Homebrew Competition Taste 30 varieties of homemade beer at this biannual brew-off. Sip your way through the competitors' quaffs and vote on the winner. Judges—including borough brew luminaries Justin Philips (Beer Table), Kelly Taylor (Kelso) and Ben Granger (Bierkraft)—choose a second victor to share the $1,000 prize with the crowd favorite. The Gowanus Studio Space, 166 7th St between Second and Third Aves, Gowanus, Brooklyn (347-351-5753, brooklynwort.com). Feb 26. Two sessions: 2:30, 4:30pm. $30; sold out.
Home-brew books
Chris Cuzme, president of the New York City Homebrewers Guild, gives us his top three picks for instructional brew manuals.
The Complete Joy of Homebrewing, by Charlie Papazian "Charlie is the godfather of home brewing. He started the American Homebrewers Association. The whole book is [about how to] relax and have home brew. The book's been around for [more than] 20 years." (Harper Paperbacks, $15.99)
How to Brew, by John J. Palmer "You can go online and get [the first edition of] his whole book.If you don't want to pay, [this is the one to get.] John Palmer is good and easy to follow." (Brewers Publications, $19.95; free at howtobrew.com)
Dave Miller's Homebrewing Guide, by David G. Miller "[This book is] clean, clean, clean. I started with it. I've never had [a brewing] infection because I've been so scared. It's very thorough. It all comes out to be clean beer." (Storey Publishing) (
www.timeout.com/newyork/bars/home-brewing-101
)
Amy Mittelman, the author of "Brewing Battles: A History of American Beer", felt Shea was a good spokesperson who "highlights the growing role of women in the brewing industry." Mittelman said that women traditionally did the brewing at home in their kitchens and she felt this is a point Shea could stress as a way of marketing the product to women.
Mittelman, who also writes the blog "Brewing Battles", said the high price of beer in New York should help encourage customers to try their product, but said the main "appeal of home brewing is getting exactly the taste you want" and that Shea and Valand should emphasize the creative aspects of their business to new customers.
In terms of scaling the business, Mittelman cautioned about jumping into retail stores and urged the founders to grow more organically online and at festivals and fairs. Mittelman suggested Shea and Valand try selling their kits on Amazon.com first, as they would "need a broader brand identity before they can approach places like Target and Wal-Mart."
Beth Goldstein, the president of Marketing Edge Consulting Group and author of "The Ultimate Small Business Marketing Toolkit", said they should lower the price of the kits to possibly under $30 and not include the grain, as a way of increasing their profit margin.
"I couldn't help but wonder if this is similar to the razor-blade model, where you sell the razor cheap – as a loss leader – because you make a significantly larger profit on the blades?" said Goldstein, who also suggested they convince their customers to buy annual memberships, where they could get various grains delivered to their house on a monthly basis, similar to Beer of the Month Clubs. "This would produce a steady, reliable revenue stream. They might even have 'Home Brewing Parties' and show people how to conduct these (getting their customers to basically sell for them). Mary Kay, Tupperware and many jewelry companies have perfected this model."