Op
Goedgevoel.be
wordt de vraag gesteld of je je haar zou wassen met bier?
Vervolgens noemen ze een actrice en maken reclame voor een shampoomerk:
Actrice Catherine Zeta Jones heeft er geen geheim van gemaakt dat zij haar mooie donkere lokken liet genieten in een badje van bier. Ook oude vrouwenverhaaltjes lieten horen dat bier de ultieme haarverzorging was voor glanzende en dikke haren. Dit heeft een schoonheidsbedrijf op ideeën gebracht. Zij hopen de wereld kennis te laten maken met de voedende eigenschappen van het bier.
Bröö
brengt sinds kort nieuwe haarproducten op basis van bier op de markt. Met behulp van gerst, hop en gist, die boordevol eiwitten, vitamine B en natuurlijke oliën bevatten, willen ze glansloos haar opnieuw voeden en versterken. In de meeste haarshampoos zal water het hoofdingrediënt zijn, maar bij
Bröö
vervangen ze het water door bier. Goed idee, zullen de mannen denken. Het bedrijf brengt zo drie verschillende haarproducten op de markt van 9,99 dollar: Porter voor hydratatie, Pale Ale voor meer volume en I.P.A voor gladde haren.
Catherine Zeta Jones gebruikte al in 2009 bier als verzorgingsproduct voor haar zuiderse lokken, al was ze niet weg van de geur, dagen daarna rook het haar nog steeds naar een biervat.
Bröö
laat weten dat bij hun producten geen biergeur aan te pas komt. Integendeel zelfs, de hydraterende Porter shampoo ruikt naar vanille, toffee, karamel noten, chocolade en kokos. Wie voor de volumineuze Pale Ale shampoo kiest, ruikt citrus, gember en limoengras met mout. De gladde I.P.A shampoo laat een frisse geur van kaneel, gember en kardemom achter. (Steffi Geuens)
(
www.goedgevoel.be/gg/nl/9/Gezondheid/article/detail/1894940/2014/05/22/Zou-jij-je-haar-wassen-met-bier.dhtml
)
In an interview, the 39-year-old actress admits that the answer to preserving her youthful appearance lies as much in her kitchen as her make-up bag.
'I rub a mixture of honey and salt all over my body to moisturise and exfoliate,' she says.
'You wash it off and your skin is gorgeous. Also, I love to eat an apple after a meal, just to cleanse my teeth - they always look polished afterwards.'
If there aren't any apples in the fruit bowl, a strawberry will suffice.
'The juice or pulp of strawberries contains malic acid which serves as an astringent and can lighten surface stains,' she explains. ' Pineapples work the same way.'
...
In 2005, she was voted the celebrity with the 'best dressed' hair in a nationwide survey.
However, while her rather unusual beauty regime appears to have its benefits, she admits it has its drawbacks too. 'I do condition my hair with honey and beer.
'I smell like the bottom of a beer barrel for days afterwards but it's very good for the hair.' (
www.dailymail.co.uk/tvshowbiz/article-1128664/The-beer-shampoo-strawberry-toothpaste-keeps-Catherine-Zeta-Jones-looking-youthful.html
)
But don't believe the tabloid tale that Catherine indulges in a £400 procedure at Hari's, a salon in South Kensington, that involves a liquefied caviar and truffle shampoo on her hair:
She revealed: "Can you believe that story?
"I wouldn't be wasting caviar or truffles on my hair, let me tell you. I'd prefer them on my plate, thank you very much.
"I do condition my hair with honey and beer though. I smell like the bottom of a beer barrel for days afterwards but it's very good for the hair." (
www.walesonline.co.uk/news/wales-news/catherine-zeta-jones-reveals-beauty-2130809
)
Hoe zou zij dat kunnen weten? Hoe de bodem van een biervat ruikt?
Catherine Zeta-Jones,
CBE
(Swansea (West Glamorgan), 25 september 1969) is een Welshe actrice. Zeta-Jones begon op jonge leeftijd met acteren. Zij won in 2003 een Academy Award voor haar bijrol als Velma Kelly in Chicago. Daarnaast heeft ze meer dan tien andere filmprijzen op haar naam staan, waaronder een BAFTA Award (voor Chicago) en een European Film Award (voor Entrapment) (
https://nl.wikipedia.org/wiki/Catherine_Zeta-Jones
).
Catherine Zeta-Jones was born on September 25, 1969 in Swansea, West Glamorgan, Wales, UK. She is the daughter of Patricia (Fair) and David James "Dai" Jones, who formerly owned a candy factory. Her father is of Welsh descent and her mother is of English, Irish and Welch ancestry. Her brothers are David Jones (born 1967), a development executive, and Lyndon Jones (born 1972), who works at her production company.
Catherine showed an interest early on in entertainment. She starred on stage in "Annie", "Bugsy Malone" and "The Pajama Game". At age 15, she had the lead in the British revival of "42nd Street". She was originally cast as the second understudy for the lead role in the musical but when the star and first understudy became sick the night the play's producer was in the audience, she was given the lead for the rest of the musical's production. She first made a name for herself in the early 1990s when she starred in the Yorkshire Television comedy/drama series The Darling Buds of May (1991). The series was a success and made her one of the United Kingdom's most popular television actresses.
She subsequently played supporting roles in several films including Christopher Columbus: The Discovery (1992), the miniseries Catherine the Great (1996) and a larger role as the seductive Sala in The Phantom (1996) before landing her breakthrough role playing the fiery Elena opposite Anthony Hopkins and Antonio Banderas in The Mask of Zorro (1998). She starred in many big-budget blockbusters like Entrapment (1999), The Haunting (1999) and Traffic (2000), for which many believed she was robbed of an Oscar nomination for best supporting actress. She won an Academy Award for Best Supporting Actress as murderous vaudevillian Velma Kelly in the musical comedy Chicago (2002). She then appeared opposite George Clooney in Intolerable Cruelty (2003), Ocean's Twelve (2004) and reprised her starring role in the sequel The Legend of Zorro (2005).
In November 2000, she married actor Michael Douglas. She gave birth to their son Dylan Michael in August 2000 followed by daughter, Carys, in April 2003. She was awarded Commander of the Order of the British Empire in the 2010 Queen's Birthday Honours List for her services to drama (
www.imdb.com/name/nm0001876/bio?ref_=nm_ov_bio_sm
).
Catherine and husband Michael Douglas share the same birthday, 25 years apart. He was born 25 September 1944; she was born 25 September 1969.
...
[on The Mask of Zorro (1998)] This film holds a lot of meaning to me, both professionally and personally. I actually met my husband when I was promoting the film in Deauville, France, and it was such an amazing time for me, being completely unknown, really, in America or in Mexico, where I shot the first one. It's a very important film for me and it's very close to my heart.
After The Mask of Zorro (1998), people spoke Spanish to me for ages. I'm Welsh but that movie instantly gave me a new ethnicity.
...
Sister of David A. Jones, an executive at Initial Entertainment group, the company that co-financed Traffic (2000). Her character in Traffic (2000) was changed to a pregnant woman, because Zeta-Jones herself was pregnant at the time with her son, Dylan.
(
www.imdb.com/name/nm0001876/bio?ref_=nm_ov_bio_sm#trivia
)
Nou in deze biografie en trivia geven geen reden om te denken dat ze wel eens de bodem van een biervat heeft gezien of geroken. Laten we het maar op een rijk voorstellingsvermogen houden. Het zal eerder doen denken aan de ochtend na een feestje met al dat schrale bier...
"Because beer is rich in proteins and vitamins, through the natural barley and hops, it does contain nutrients for helping to develop healthy hair," explains Dr. Ryan Welter, a Massachusetts-based hair restoration surgeon. "Many people have thus seen the benefits of fuller, thicker and more bodied hair through the use of a beer rinse. However, it's not acting on growing hairs, but rather existing ones. There is no evidence beer can help hair grow."
Stylist Luigi Parasmo, who has worked for on runway shows for couture brands like Versace, Armani and Dolce & Gabbana, also believes beer can make everything better, at least in the hair department.
"Beer works well because the alcohol acts as a cleansing and shine agent," says Parasmo. "It has a softening effect as well."
For those wary of the smell and mess that comes with a beer rinse, beauty companies have already launched similar products that can cut down on time. There's LUSH's Cynthia Sylvia Stout shampoo, which promises to provide volume and shine with a smell that's "delicious, just like a brandy, stout and lemon cocktail." There's also
BRÖÖ
, a hops and barley-based hair care line that insists on strengthening weak manes for fuller, thicker results (
http://magazine.foxnews.com/style-beauty/beer-beautiful-hair-does-it-work
).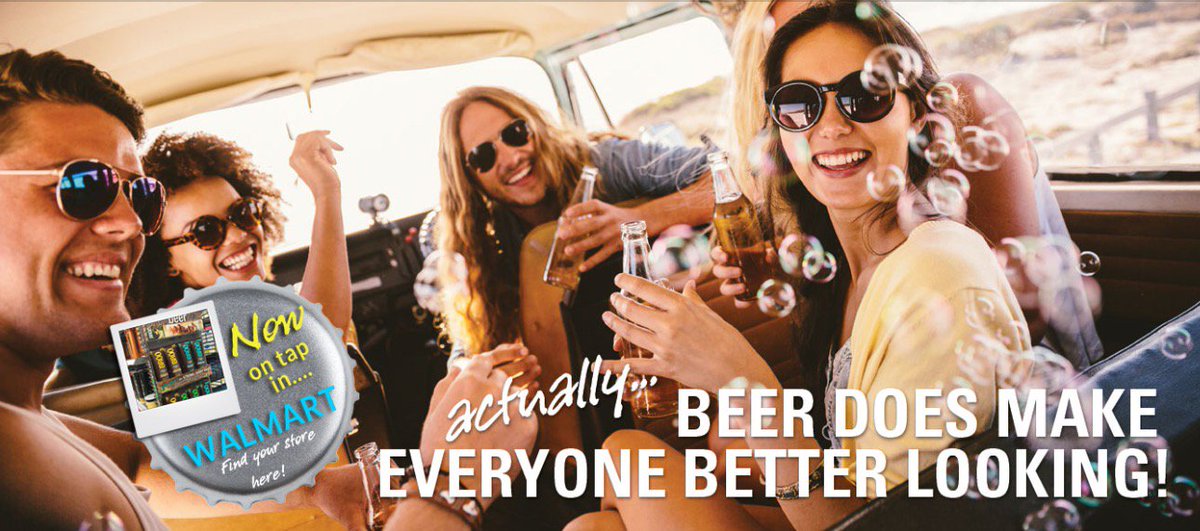 Ashley Iaconetti
probeert het ook om te zien of het haar bevalt om haar haar met bier te wassen:
Some reports caution that beer can strip hair of its good, natural oils
and leave hair too dry. So it's good thing I am here with four-days greasy hair hoping this bottle of beer has some mean cleansing properties.
When I Googled directions on the proper beer washing technique, I got a variety of results. Some recommend to boil the water first and then let it cool to rid the beer of its drying properties. Others suggest to lightly spritz it in your hair and use it as a leave-in conditioner. After reading up on different, but similar methods, I compiled the most common procedures and developed my own approach. Who knew hair washing could get so scientific?!
First, I poured the beer into a glass and let it sit for 45 minutes. Apparently, the beer must be flat in order to work its hair wonders. At that point, I hopped in the shower and washed my hair with the same products I normally use. (Remember those experimental "constants" from high school? Same thing applies here.) I lathered up with Head and Shoulders Dry Scalp Care with almond oil. I followed that up with OGX's Moisture Surge Deep Treatment conditioner and let it sit for a few minutes.
Following the instructions I gathered from the Internet, I rinsed out my conditioner and grabbed the glass of flat beer on my bathroom counter, I added about two tablespoons of warm water to the glass. After this, I tipped the glass and a waterfall of cold beer was poured down my head and back. I had two thoughts. 1) Holy crap! This is colder than I expected! 2) Why does the scent of beer smell so familiar in a bathroom setting? Oh, right, keg parties in college. I immediately worried if I'd smell like a frat house the next morning on my morning flight to L.A.
I let the beer sit on my hair for three minutes as recommended and then fully rinsed it out. Following my shower, I sprayed my favorite Pantene Pro-V detangler as usual and went to bed to sleep on my wet hair....Honestly, I don't know if beer rinsing is something that will become a regular part of my beauty routine. It certainly didn't hurt my hair, but I'm not sure that the subtle results were totally worth wasting a bottle of beer over. For an extra boost of volume, I much prefer using a volumizing product, like L'Oreal's Advanced Haircare Volume Filler Fiber Amplifying Concentrate. The effects are more instant — and it doesn't remind me of Thirsty Thursdays (
www.bustle.com/articles/79364-i-washed-my-hair-with-beer-in-attempts-to-get-the-luscious-locks-of-catherine-zeta
)
Kellie Speed, East Coast Restaurant Examiner:
Broo delivers craft beer to shampoo and conditioner
If you thought beer was just made for drinking, the folks at BROO have set out to change your mind with their craft beer shampoo and conditioner. Each bottle contains a blend of microbrewed beer and natural ingredients to create a lustrous result.
We love the thickening shampoo and conditioner that combines freshly hopped craft beer and barley protein to give thin hair a lift. It also includes a boost of caffeine to stimulate hair follicles and is finished off with a shot of BROOLuxe for a natural gloss.
The line also includes 100 percent natural citrus ingredients with the inclusion of orange, grapefruit and vanilla crème. The malted barley includes B vitamins and proteins designed to nourish, repair and protect hair while the hops are included for their antioxidant benefits to amplify hair (
www.examiner.com/article/broo-delivers-craft-beer-to-shampoo-and-conditioner
).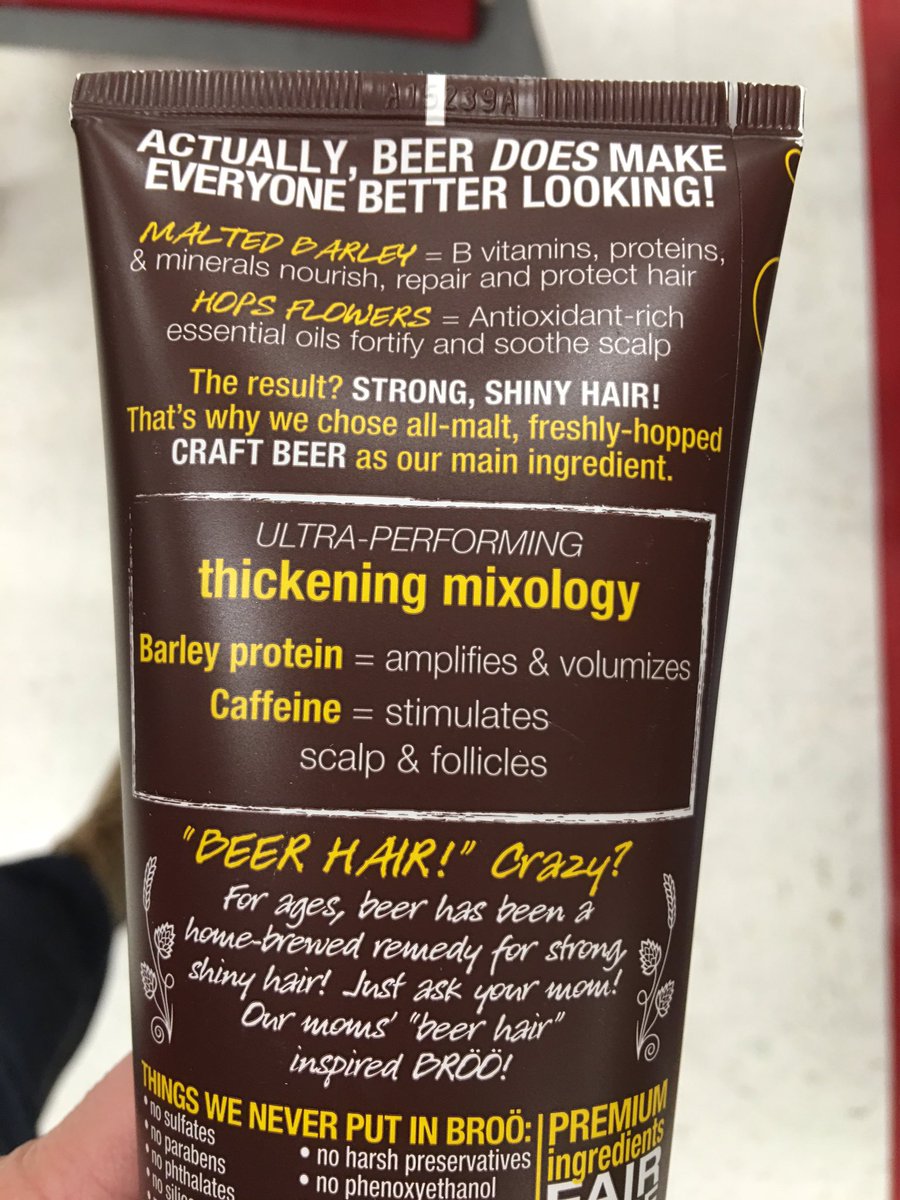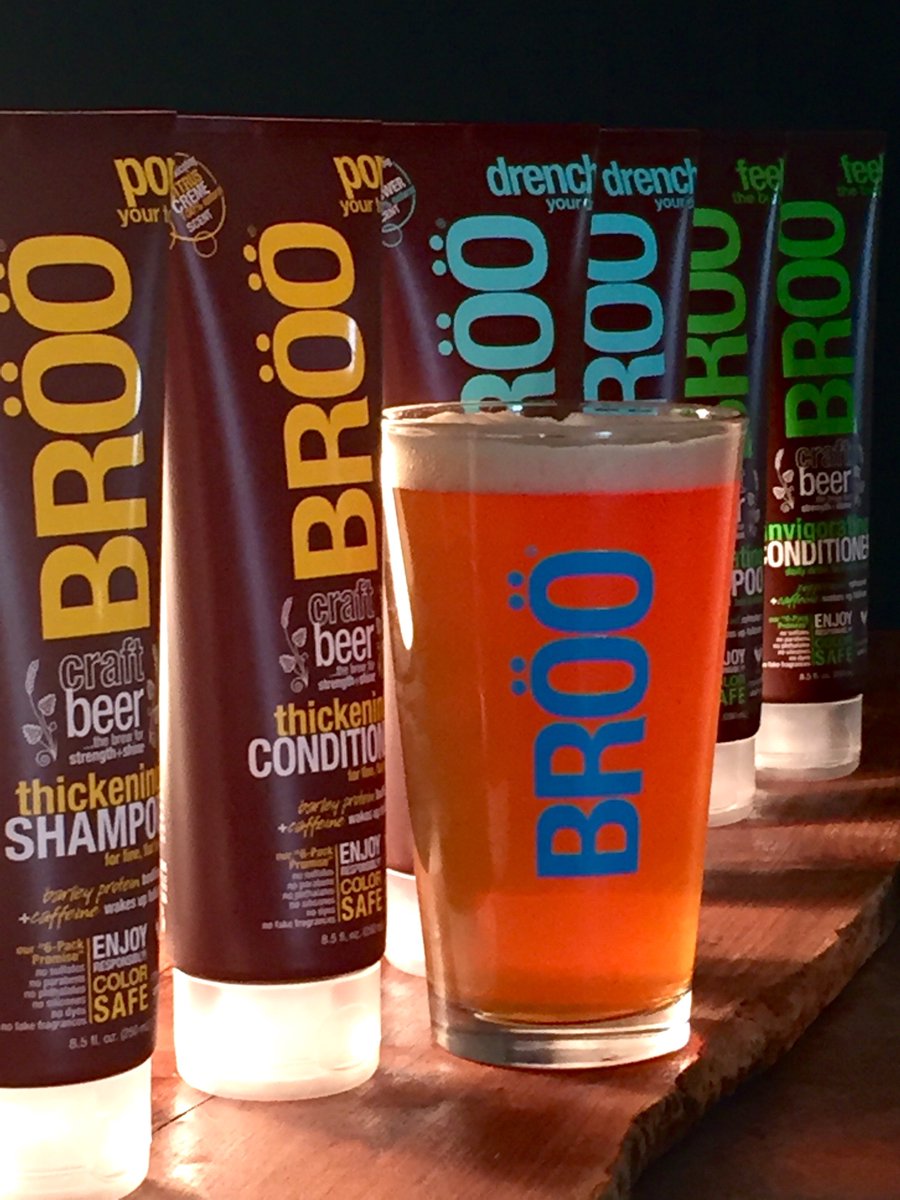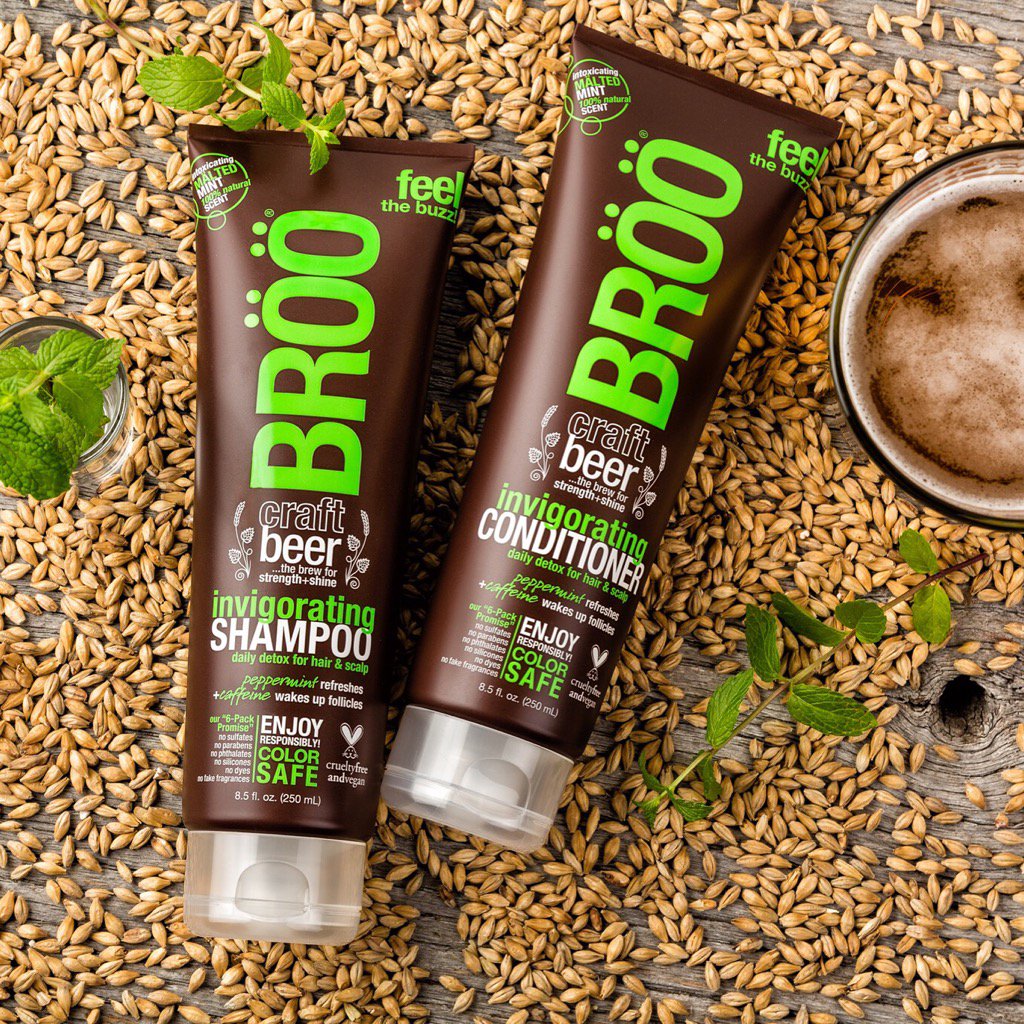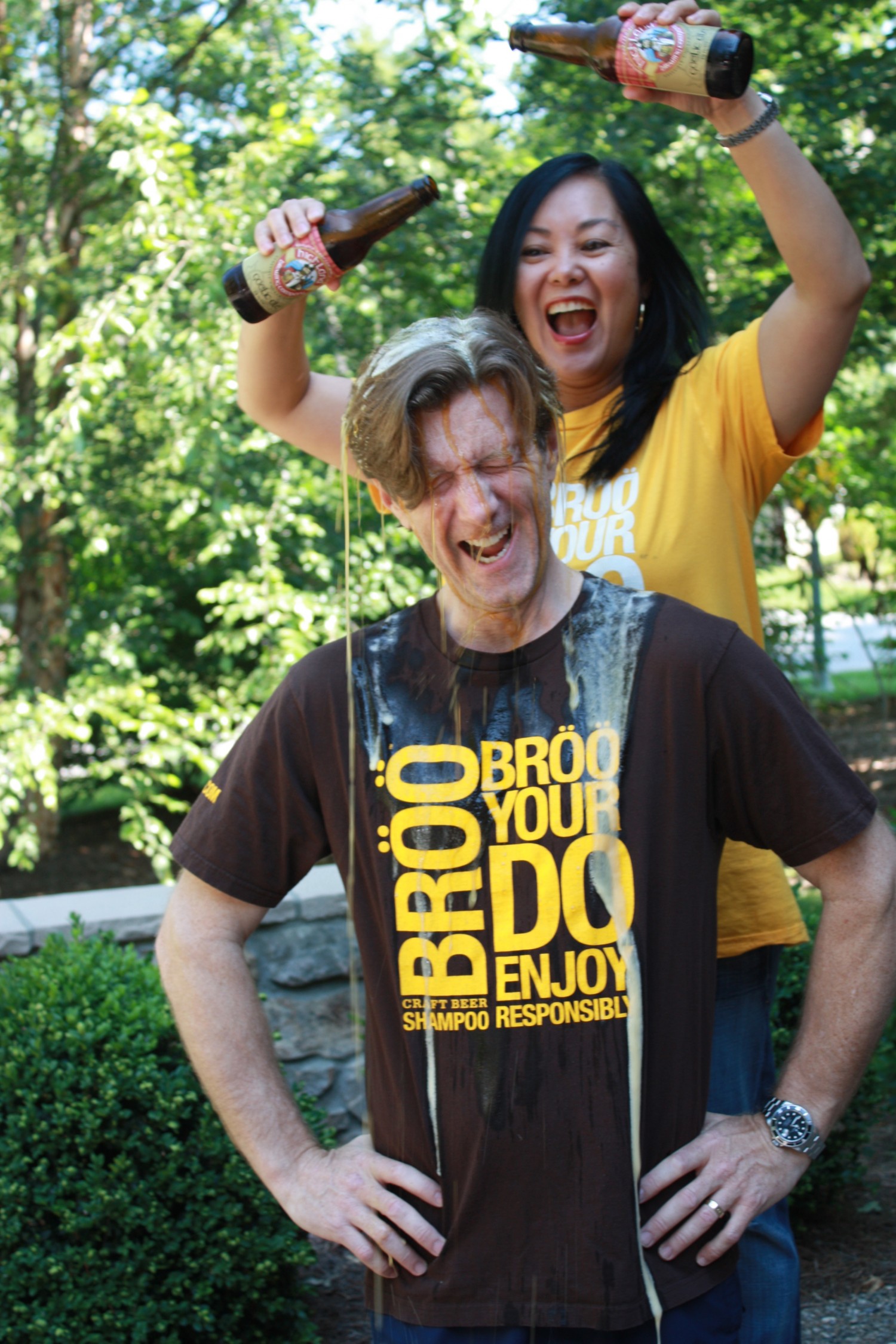 Co-Founders: Sarah Duran & Brad Pearsall
Searching out home-brewed beauty remedies handed down through the ages, BRÖÖ transforms these into ultra-performing, natural beauty products. BRÖÖ is made with premium artisanal ingredients—namely handcrafted beer made in Asheville—and costs only half the price of most salon and spa brand products. Most importantly, its products contain no sulfates, no silicones, no harsh preservatives, and no added colors/dyes. BRÖÖ appeals to both beer nuts and body care enthusiasts by offering products ranging from Volumizing Pale Ale Shampoo to Soothing Oatmeal Porter Body wash (
http://ventureasheville.com/broo/
).
An Asheville couple taps into the local creative industry with a beer shampoo line, BRÖÖ. What other beauty company bottles shampoo in a six-pack?
When lawyers-turned-entrepreneurs Brad and Sarah Pearsall moved to Asheville, they knew they wanted to start a business that would capture the essence of such "a healthy, outdoorsy, eat tofu kind of place."
Having recently become more conscious about their own health, the Pearsalls' minds' first inclination was to create a line of natural beauty products.
OS_Broo"When we started out, there were already 17 lavender shampoos on the shelf," Brad says. "We don't need to be the 18th lavender shampoo."
They needed to set themselves apart in such a creative city, so naturally, they looked to the next best option: beer shampoo. Wait, what? Beer shampoo?
Yeah, they get that a lot. In fact, they were just as confused when Brad's mom first mentioned it to them.
"What do you mean? You dump beer on your head? Is that how you met my dad at a party or something? Is that how I came to be?" Brad had lots of questions.
His mom explained that back when Jackie Kennedy's bouffant reigned supreme, women across the country looked to imitate it and read that the style icon's hairdresser rinsed her hair with beer.
For extra body and style, it was a great home treatment. But somewhere down the line, after one too many sniffs of our sister's hairspray from the backseat of the car, most of us forgot all about it.
To the Pearsalls, our reliance on chemical-laden beauty products is concerning.
"As Americans, it's our birthright to have lather, shine, and all that, but we use yucky chemicals to get it," Brad says. "We all kind of turn the ingredient list to the corner of the shower in shame."
That's when they really got to thinking: If Budweiser was the hairdo brew of choice in the 1960s, perhaps craft brew could be even better.
"I started getting every craft beer I could find. I literally went to the shower and started pouring it on my hair," Sarah says. "It's cold, and it's smelly, but when you rinse it off and get out of the shower, your hair is so soft and conditioned. I couldn't believe it."
They first tried brewing beer specially made for hair in their own home, but well…
"It was not an epic ale, it was an epic fail," quips Brad, who is never one to shy away from rhymes and puns.
Then they headed over to Asheville's oldest brewery, Highland Brewing Company, with nothing but a PowerPoint presentation and a big idea. Everyone fell out of their chairs at the idea of using premium beer for anything other than drinking.
"After they quit laughing, they said, 'All right, you guys sound serious. Here's some beer,'" Brad says.
•••
But the Pearsalls were just a couple of lawyers. They'd need help from a chemist to get the formula of BRÖÖ right, so they recruited a friend who is a doctor and rented some laboratory space.
Again, it was a disaster. To create natural shampoo and conditioner that actually smelled good, it would mean finding someone with actual salon experience. They caught wind of a Christmas party the Carolina Society of Cosmetic Chemists was throwing, and they saw an in.
"So I said, 'You know what? I'm going to put on a coat and tie, and I'm going to go crash that party and see if I can find somebody who could help us,'" Brad says.
He found their guy.
•••
For BRÖÖ to be sold by various eco-minded stores, such as Whole Foods and Earth Fare, the products must follow certain ingredient guidelines, which ban hundreds of chemicals.
Brad says it took almost two years and more than 53 versions of the shampoo and conditioner to make BRÖÖ just right before it hit shelves in 2011.
There were lots of tangles in the plan, but to the Pearsalls, all were worth unsnarling if it meant creating a product that makes them proud, and one that their family can use.
Even their teenage daughter, who will only use a shampoo if it smells good, likes it. And she's not the only one. Brad and Sarah say it is not unusual for them to get emotional testimonials from people who use their product.
There's the woman who didn't date for two years, and after using BRÖÖ, she says both her hair and new beau are great. And there's another who said she cried in the shower when she could actually get her hair to lather after years of using no-frills hypoallergenic products.
After all, everyone gets bad hair days (
http://broo.com/broo-takes-beer-saloon-to-salon-with-shampoo/
).
BRÖÖ offers three formulas of shampoo and conditioner, each featuring a different type of beer.
Made with Highland's oatmeal porter, the hydrating formula soothes and restores and has a subtle vanilla smell. The pale ale found in the volumizing formula gives flat hair a boost and features citrusy notes, and additional hops in the IPA shampoo and conditioner smoothes frizzy hair.
While the nourishment BRÖÖ provides might be serious, the brand itself is anything but.
"If craft beer is a rebellion against corporate beer, then BRÖÖ is a rebellion against corporate shampoo," Brad says.
The BRÖÖ philosophy is an easy one to follow: "Keep it healthy. Make it simple. Look awesome. Love what you got."
Sounds about right.
(
http://broo.com/broo-takes-beer-saloon-to-salon-with-shampoo/
).